PAT Series: Recent achievements in NIR-based on-line monitoring of lyophilisation processes
30 June 2016 • Author(s): Adrian Funke - Bayer Pharma AG / Reinhard Gross, Stephan Tosch and Albert Tulke - Bayer Technology GmbH
Process analytical technology (PAT), namely near-infrared (NIR) and Raman spectroscopy, has already been shown to be a useful tool for monitoring, analysing and optimising the complex process of lyophilisation. The latter process is especially challenging in the case of biopharmaceutical formulations due to the instability of active ingredients, leading to special requirements with respect to optimal process control and reproducibility. Both these parameters are important factors affecting the product quality. Recent studies confirm the ability of NIR spectroscopy (NIRS) to provide insights into both drying phases of lyophilisation, that is, sublimation of ice and removal of adsorbed water.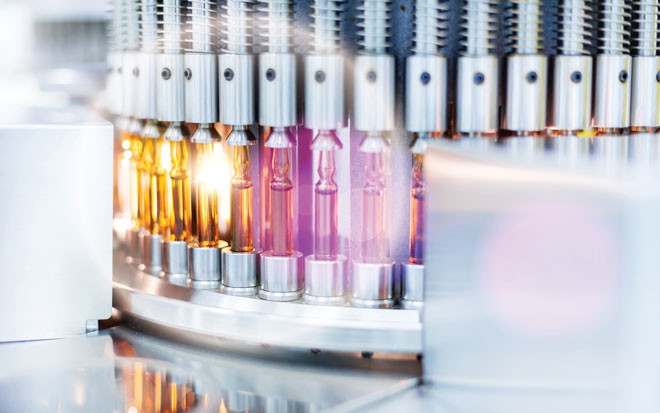 Lyophilisation of biopharmaceuticals Freeze-drying or lyophilisation1,2 is often the method of choice3,4,5, especially for converting aqueous formulations of labile biopharmaceuticals into stable, re-dissolvable solids. Basic monitoring of the process conventionally relies on temperature and pressure measurements. Although it has been well established for decades, there is still room for optimisation in all stages of this complex process (Figure 1; page 51). For example, scale-up processes are often addressed in an empirical manner. Changing this, however, would require reliable process information, preferably in real time, most importantly about the true moisture content of the samples. In principle, all analytic methods today either monitor individual vials, for example, by determining their weight, or check the moisture contents and flow within the freeze dryer as an integral value. The latter is done by determining partial pressure of the water vapour or the water concentration in the gas, for example, by using infrared absorption spectra obtained with tunable diode lasers (TDLAS)6.
In recent years, various attempts have been made to employ spectroscopic methods to directly conduct moisture measurements in individual vials. However, as the temperature distribution in the freeze dryer is not totally homogeneous, each vial is treated as an individual which makes it difficult to obtain reliable data even on an average basis. Nevertheless, the pharmaceutical industry is highly interested in having a precise understanding and monitoring the complete lyophilisation process because it is critical for the final product quality. Such a 'quality by design' approach7 has become a key requirement in pharmaceutical production. Melting of the vial contents or collapse of the lyophilisate has to be avoided since it would be detrimental to the product.