Pharmaceutical Microbiology USA
8 – 9 June 2017
San Diego, USA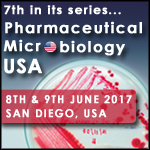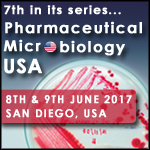 Date: 8 – 9 June 2017
Location: Hyatt Regency Mission Bay, San Diego, USA
Email: [email protected]
Website: www.pharam-microbiology-usa.com/epr
Event Description:
Drawing on from the huge success of SMi's Pharmaceutical Microbiology UK events, SMi is delighted to announce the launch of Pharmaceutical Microbiology USA. The seventh in its series, this event will take place in San Diego, on the 8th and 9th June 2017. Aimed at Microbiologists, Quality Control and Quality Assurance Managers, Pharmaceutical Microbiology USA 2017 will address the current challenges and developing trends of the pharmaceutical microbiology field.
Through a series of presentations from handpicked industry experts, two pre-conference workshops and an additional interactive training session, the agenda will discuss hot topics such as rapid microbiology methods (RMM), risk assessment, challenges in endotoxin recovery, environmental monitoring, sterility assurance, data integrity and much more…
Chairs for 2017:
Donald Singer, GSK Fellow, Steriles Microbiology, R&D, GSK
John Duguid, Senior Director, Research & Development, Vericel Corporation
Expert Speaker Line-Up Includes:
Ron Smith, Director, External Supply Integration Quality, Janssen
Ren-Yo Forng, Scientific Director, Amgen
Kevin Luongo, QC Sr. Scientist (Microbiology), Takeda
Elizabeth Hulanick, Microbiologist, Renaissance Pharmaceuticals
Paul Ricciatti, Sterility Assurance Manager, Bimeda
Jeanne Moldenhauer, Vice President, Excellent Pharma Consulting
Akua Gilbert-Arthur, Principal Scientist, Roche Molecular Systems
And many more…

Exclusive highlights in 2017: 
Discuss the challenges involved with microbial control with Takeda
Following the path to efficient sterility assurance with GSK
Bimeda highlight the importance of environmental modelling
Delve into the latest developments in rapid microbial methods with Janssen
Hear the latest on data integrity and compliance with Roche
Take part in an interactive extended training session with Microrite
Early birds available!
For details or to register, visit the website at www.pharam-microbiology-usa.com/epr or contact the team at +44(0) 207827 6000, email [email protected].