FDA approves Darzalex for multiple myeloma
Posted: 17 November 2015 |
Darzalex (daratumumab) is the first human anti-CD38 monoclonal antibody (mAb) approved anywhere in the world…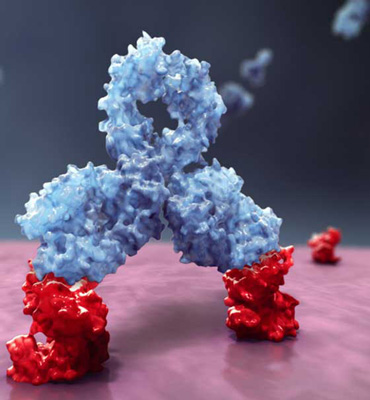 The US Food and Drug Administration (FDA) has approved Janssen Biotech's Darzalex (daratumumab) injection for intravenous infusion for the treatment of patients with multiple myeloma who have received at least three prior treatments. 
Multiple myeloma is an incurable blood cancer that occurs when malignant plasma cells grow uncontrollably in the bone marrow. Refractory cancer occurs when a patient's disease is resistant to treatment or in the case of multiple myeloma, the disease progresses within 60 days of their last therapy. Relapsed cancer means the disease has returned after a period of initial, partial or complete remission.
Darzalex is the first human anti-CD38 monoclonal antibody (mAb) approved anywhere in the world. CD38 is a surface protein that is expressed by most, if not all, multiple myeloma cells. Darzalex is believed to induce tumour cell death through multiple immune-mediated mechanisms of action, in addition to apoptosis, in which a series of molecular steps in a cell lead to its death.
Darzalex has demonstrated 'pronounced efficacy'
"Multiple myeloma is a highly complex disease and remains incurable, with almost all patients relapsing or becoming resistant to therapy," said Darzalex clinical trial investigator Paul G. Richardson, M.D., Clinical Programme Leader and Director of Clinical Research, Jerome Lipper Multiple Myeloma Centre, Dana-Farber Cancer Institute. "With Darzalex, we have a promising new immunotherapy, which has shown pronounced efficacy as a single agent with an acceptable adverse event profile. This is especially important for treating these heavily pre-treated patients in whom all of the major classes of currently available medicines have failed."
The safety and efficacy of Darzalex were demonstrated in two open-label studies. In one study of 106 participants receiving Darzalex, 29% of patients experienced a complete or partial reduction in their tumour burden, which lasted for an average of 7.4 months. In the second study of 42 participants receiving Darzalex, 36% had a complete or partial reduction in their tumour burden.
"The responses we saw in clinical trials that led to today's approval were striking, especially considering that these patients received a median of five prior lines of therapy," said MMY2002 investigator Sagar Lonial, M.D., Chief Medical Officer, Winship Cancer Institute of Emory University and Professor and Executive Vice Chair, Department of Haematology and Medical Oncology, Emory University School of Medicine. "It appears the mechanism of action for daratumumab may play an important role in its single-agent activity among this group of advanced-stage multiple myeloma patients."
Related organisations
Related diseases & conditions