EC approval for Afinitor for the treatment of neuroendocrine tumours
The EC has approved Afinitor (everolimus) for the treatment of neuroendocrine tumours of gastrointestinal or lung origin in adults with progressive disease…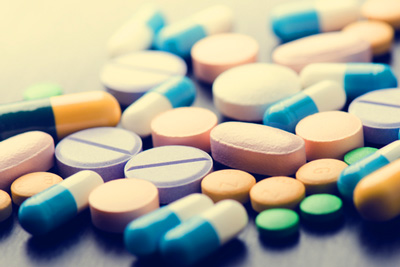 The European Commission has approved Novartis' Afinitor (everolimus) tablets for the treatment of unresectable or metastatic, well-differentiated (Grade 1 or Grade 2) nonfunctional neuroendocrine tumours (NET) of gastrointestinal (GI) or lung origin in adults with progressive disease.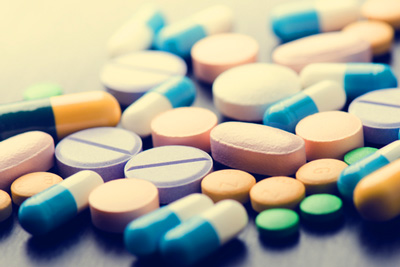 Afinitor is the first approved therapy in all 28 member states of the European Union (EU), plus Iceland and Norway, for this type of lung NET, and one of very few treatment options available for this type of GI NET.
Commenting on the approval, Bruno Strigini, President, Novartis Oncology, said: "With this decision, Afinitor is now approved in the EU to treat the three most common types of advanced NET. As a company that has long been dedicated to advancing care for NET patients, we are pleased that this latest milestone makes Afinitor available to patients in the EU who previously had few or no approved treatment options."
Approval based on data from the RADIANT-4 trial
The EU approval of the therapy was based on efficacy and safety data from a pivotal Phase III study (RADIANT-4) evaluating Afinitor versus placebo in patients with advanced, progressive, well-differentiated nonfunctional NET of GI or lung origin. Results showed that the therapy reduced the risk of disease progression by 52% compared to placebo. The data also showed the therapy increased median progression-free survival (PFS) by 7.1 months: median PFS by central review was 11.0 months in the Afinitor arm and 3.9 months in the placebo arm.
The most common treatment-related, all-grade adverse events for Afinitor and placebo, respectively, were stomatitis (63% vs 19%), diarrhoea (31% vs 16%), fatigue (31% vs 24%), infections (29% vs 4%), rash (27% vs 8%) and peripheral oedema (26% vs 4%). The most common treatment-related grade 3/4 adverse events for Afinitor versus placebo were stomatitis (9.0% vs 0.0%), diarrhoea (7.0% vs 2.0%) and infections (7.0% vs 0.0%).
In February 2016, the US Food and Drug Administration approved the therapy for the treatment of adult patients with progressive, well-differentiated nonfunctional NET of GI or lung origin that are unresectable, locally advanced or metastatic.
Novartis has created infographics on NET of GI and lung origin: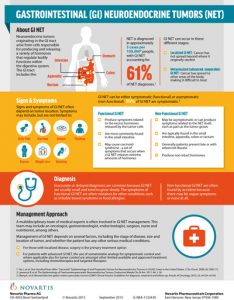 And: