Direct quantitative analysis of biological particles using the Coulter Principle

ABOUT THIS WEBINAR
The Coulter Principle allows for direct (label-free) measurement of biological particles in a precise, verifiable and repeatable manner. The broad particle size measurement range (0.2µm – 1,600µm) afforded by this technique makes it suitable for a multitude of important biopharma applications, including: cell size and volume determinations, cell cycle analyses, cell health and cell transduction efficiencies. Moreover, the agility of measuring via the Coulter Principle allows for a broad range of possible cellular and sub-cellular samples; whether from prokaryotic or eukaryotic (fungi, plant or animal) cells.
A summary of the Coulter Principle is presented here, including highlights of key technological components, such as Digital Pulse Processor Technology and aperture selection, as well as details pertaining to the application of measurement principles. 
In this webinar, you will learn how the Coulter Principle can precisely measure minute distributions of biological particles. This principle can be used to analyse cyanobacteria, E. coli bacteria, CHO cells, CAR T cells, yeast cells, algae cells, fat cells, plant cells and more.
This course includes an overview about the features of the measurement principle like the Coulter Principle, the Digital Pulse Processor Technology as well as the variety of available apertures.  
Key learning outcomes:
Overview of performing measurements via the Coulter Principle
Introduction to key technical components of the measurement platform
Summary of key biopharma applications performed using the Coulter Principle.
Register
Speaker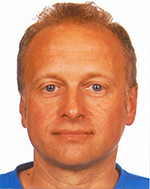 Uwe Killemann, Field Marketing Manager, Europe, Beckman Coulter Life Sciences
Uwe Killemann holds a degree in process technology and joined Beckman Coulter in 1997 as an application scientist. Over the years, Uwe Killemann has held several positions as Regional Sales Manager and now works as a European Field Marketing Manager. Uwe Killemann has more than 25 years of experience in the field of biological cell analysis. As the Field Marketing Manager for the Cell Health Product Line at Beckman Coulter Life Sciences he works closely with customers all over Europe and Worldwide.