Variable pathlength spectroscopy for dilution-free concentration measurement in GMP environments
Supported by:

Watch this on-demand webinar, where we reviewed VPT and how it can be used in various applications, from protein therapeutics to gene therapy.
Traditional ultraviolet–visible (UV/Vis) spectroscopy uses fixed pathlengths to measure different analytes, such as nucleic acids, proteins and cells from biological samples. These samples are often limited in volume or highly concentrated, which presents various challenges.
The CTech™ SoloVPE® System uses a patented variable pathlength technology (VPT) to accurately measure the targeted concentration of various analytes. The system can measure concentrations without being dependent on sample volume or sample concentration, removing any dilution requirements.
In this on-demand webinar, we reviewed VPT and how it can be used in various applications, from protein therapeutics to gene therapy. We also shared real-world case studies demonstrating how companies have integrated the SoloVPE system into their manufacturing workflow for release and in-process testing.
Key learning points
The science of slope spectroscopy and why variable pathlength is better than fixed pathlength
Overview of the SoloVPE System and the benefits:

No sample dilutions
Guaranteed linear results
No baseline correction
Testing of low and very high concentration samples from 0.01mg/mL up to 300mg/mL (MAbs)
Implementing in the analytics/QC lab or in the production suite for at-line testing (IPT)

Review SoloVPE implementation in multiple applications – Quantitate proteins (A280, DNA/RNA, PS280, gold particle testing, plasmid purity)
Meet our speaker
Dean Barton, Analytical Sales Manager, Repligen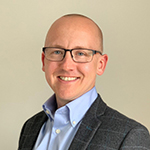 Dean Barton is an Analytics Sales Manager at Repligen for Northern Europe. He spent the last 15 years in both technical and commercial roles supporting the biopharma, food safety, animal health and academic industry to implement rapid analytical solutions.
For the past six years he has focussed on biopharma manufacturing, development and QC groups to help them achieve their goals of faster analytics; improved production processes and efficiencies; and advancing scientific discovery with molecular biology and spectroscopy solutions.