Strategies for implementing eConsent across the European regulatory landscape
Supported by:

In this webinar, we dive into the intricacies of implementing electronic informed consent (eConsent) in clinical trials within the complex regulatory landscape of European countries.
About this webinar
Recent industry statistics demonstrate that the adoption of eConsent has been gaining popularity, with a 33 percent increase in usage from 2019 to 2020 across Europe. Nevertheless, one of the foremost challenges is ensuring compliance with local regulations and ethical guidelines while maintaining secure, accurate, informative and accessible eConsent processes for all participants.
To overcome these hurdles, clinical trials sponsors may need to validate their eConsent processes and systems, provide comprehensive training to study staff and participants, work closely with regulatory authorities and collaborate with technology vendors to develop eConsent solutions tailored to their specific needs.
It is important to note that the adoption of eConsent has the potential to enhance the informed consent process, but it is vital to carefully consider regulatory requirements and ethical guidelines.
Key takeaways
Learn how to navigate local and ethical guidelines when implementing eConsent in Europe
Discover the importance of developing a robust change management programme to earn stakeholder acceptance and adoption of new technologies
Explore the top three considerations when choosing an eConsent technology partner.
Our speaker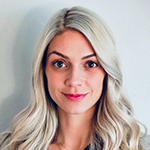 Camila Matheny, Executive Director, DCT Offerings
An expert in clinical trial operations, Camila Matheny works closely with Pharma, Biotech and CRO customers to clearly articulate the value of adopting digital technologies to deliver decentralised and hybrid clinical trials. A member of the SCDM eSource Consortium, DTRA and EFGCP, Camila leads with data – the driving force behind bringing new therapies to market. With over 15 years of clinical trials experience, a background in data management and a passion for the latest cutting-edge technologies, Camila provides a unique combination of expertise to help guide the industry towards the future state of patient-first clinical trials.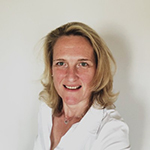 Caroline Beaufour, Pharm.D, PhD, Innovation Lead, Clinical Development Support, Servier
Catalyst for innovation in clinical development, with a strong focus on decentralised clinical trial implementation and process improvement, Caroline has led the development of software as a medical device in cardiology, mapping and qualifying emerging technologies for remote patient monitoring in clinical trials over the last 5 years. She led preclinical neuroscience research at Servier and Sanofi (France). She is Graduate Doctor of Pharmacy at the Faculty of Pharmacy and Doctor of Neuroscience at INSERM (France).