The publishers of European Pharmaceutical Review launch new magazine aimed at the drug discovery industry
European Drug Target Review is a business-to-business magazine featuring the latest developments in drug discovery and new drug development collaborations…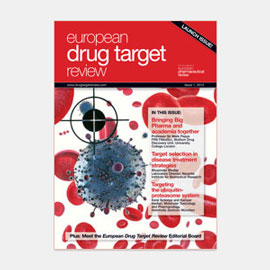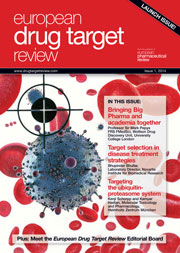 Russell Publishing Ltd, the publishers of European Pharmaceutical Review has expanded its portfolio by launching European Drug Target Review, a business-to-business magazine that will feature the latest news, developments and insights in drug discovery for the changing landscape as companies restructure and look to new collaborations to discover new medicines.
The magazine, which will have a readership mainly across Europe but also with a presence in the US and Asia, is launching amid the growing success of European Pharmaceutical Review which is now in its 19th year and is continuing to build on its reputation as the gateway to Europe for pharmaceutical manufacturing and development.
"The team from European Pharmaceutical Review will also be launching European Drug Target Review," says Freddy White, Publisher. "With a wealth of experience in scientific publishing and account management, European Drug Target Review is the obvious next step for the company. The new magazine will not only benefit from the company's knowledge of the industry, but will enable us to bring a complete platform of news and knowledge from all aspects of the pharmaceutical industry, from target identification to drug manufacturing."
"This is an exciting time to launch European Drug Target Review," says Sheraz Gul, Scientific Editor. "Our readers have expressed a keen interest in a peer-written magazine for the drug discovery industry, by the drug discovery industry. Contributions come exclusively from scientists and researchers working for Big Pharma, biopharma and academic and research institutions, which gives European Drug Target Review the unique position of being able to give the industry a voice to be heard."
The launch issue has been well-supported across the industry, with Waters, Mettler Toledo, BMG Labtech, Cisbio Bioassays, PerkinElmer, Bruker Physik and Thermo Fisher Scientific all pledging their support, while contributors include Guido Rasi, Executive Director, European Medicines Agency, Kevin Morris, Department of Molecular and Experimental Medicine, The Scripps Research Institute, Bhupinder Bhullar, Lab Head, Novartis, Isabella Gashaw, Khusru Asadullah, Martin Bechem and Karl Ziegelbauer, Bayer Healthcare and Professor Sir Mark Pepys, Director, Wolfson Drug Discovery Unit, University College London. For a full list of contributors, please visit the European Drug Target Review website at www.drugtargetreview.com.
For further information, please contact:
Freddy White
tel: +44 (0)1959 563311
email: [email protected]