Dolomite launches Educational Microfluidic Starter Kit
Posted: 10 February 2015 |
Microfluidics specialist Dolomite has created a low cost kit aimed at educational initiatives or those new to microfluidics…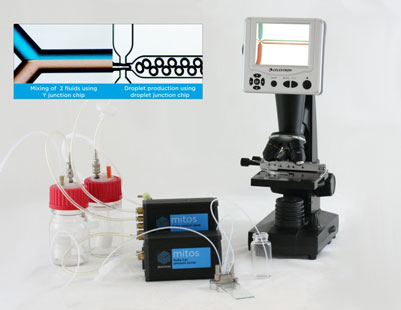 Educational Microfluidic starter kit
Microfluidics specialist Dolomite has created a low cost kit aimed at educational initiatives or those new to microfluidics. The Educational Microfluidic Starter Kit offers connect­and­go microfluidic capabilities, allowing easy set-up without the need for specialist tools or a gas supply.
The compact, highly portable system enables users to create small droplets, mix fluids or observe microchannel flow, allowing them to investigate or demonstrate a wide range of microfluidic applications. It offers customers the flexibility to choose between using either their own PDMS (polydimethylsiloxane) chips – with the PDMS Chip Interface – or Dolomite's range of glass chips, including 2 Reagent Droplet Chips, Micromixer Chips and Y-Junction Chips. Powered and controlled via the Mitos Fluika Control Software using a USB port, the kit represents the ideal microfluidic starter system, offering exceptional value with a modular, flexible design that can be tailored to a variety of applications.
The Educational Microfluidic Starter Kit is accompanied by an application note – Introduction to Mixing and Droplet Production in Microfluidics – which gives a taste of some basic principles of microfluidics, demonstrates simple, robust and dependable set-up configurations, and shows how to achieve reliable droplet production and fluid mixing.
For more information, visit http://www.dolomite-microfluidics.co.uk/webshop/educational_microfluidic_starter_kit