Rotary grants US$40.3 million to eradicate polio worldwide
Rotary has granted $40.3 million to support immunisation activities and research carried out by the Global Polio Eradication Initiative…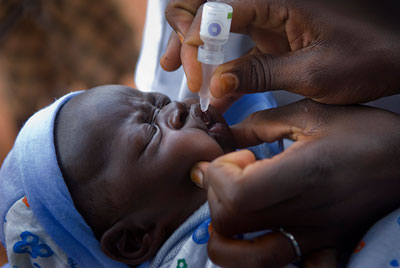 CREDIT: APO
Rotary has granted $40.3 million to support immunisation activities and research carried out by the Global Polio Eradication Initiative.
Rotary has granted these funds to the World Health Organisation (WHO) and UNICEF for polio immunisation, surveillance and research activities in 10 countries.
The funding commitment comes at a critical time as Nigeria – the last polio-endemic country in Africa – approaches one-year since its last case of polio. If the current progress continues, WHO may remove Nigeria from the list of polio-endemic countries as early as September. In addition to the notable progress in Nigeria, no new cases have been reported anywhere in Africa since August 2014.
Experts do, however, strongly caution that it is too soon to fully celebrate. Nigeria needs to go an additional two years without polio to be certified polio-free. Funding and support for high-quality immunisation campaigns and surveillance activities will be key to sustaining current gains.
Pakistan saw an outbreak of polio in 2014 that resulted in more than 300 cases
"We are closer than we've ever been to wiping out polio," said Mike McGovern, chair of Rotary's International PolioPlus Committee. "Although there has been noteworthy progress made against the disease, children remain at risk. Rotary – along with our partners – must continue to stay the course and remain steadfast in our plight to eradicate polio. These funds will help boost our efforts to combat polio worldwide."
The only two other polio-endemic countries, Pakistan and Afghanistan, continue to experience hurdles in eradication campaigns including inaccessibility to children and security. Last year, Pakistan saw an outbreak which resulted in more than 300 cases, the highest number in the country in more than a decade. As a result, Pakistan accounted for almost 90% of the world's cases. However, there has been improvement in 2015. Cases are down nearly 70% over this same time in 2014.
Progress against polio, while significant, remains fragile. Rotary's funds will support immunisation efforts in Nigeria ($9.9m), Pakistan ($12.2m) and Afghanistan ($2.3m). Additional funds will support efforts to keep other at-risk countries polio-free.
Incidence of polio has plummeted by more than 99% since 1988
Rotary launched its polio immunisation programme PolioPlus in 1985 and in 1988 became a spearheading partner in the Global Polio Eradication Initiative with the WHO, UNICEF, and the US Centres for Disease Control and Prevention. Since the initiative launched in 1988, the incidence of polio has plummeted by more than 99%, from about 350,000 cases a year to less than 400 confirmed in 2014.
Rotary's roles within the initiative are fundraising, advocacy, and social mobilisation. To date, Rotary has contributed more than $1.4 billion and countless volunteer hours to fight polio. Through 2018, every new dollar Rotary commits to polio eradication will be matched two-to-one by the Bill & Melinda Gates Foundation up to $35 million a year.
Related organisations
Related diseases & conditions