Incyte and Merck to investigate epacadostat and Keytruda in melanoma
Posted: 13 October 2015 |
Preclinical evidence suggests that the combination of these two agents may lead to an enhanced anti-tumour immune response…
Incyte and Merck have expanded their ongoing clinical collaboration to include a Phase 3 study evaluating the combination of Incyte's epacadostat with Merck's Keytruda (pembrolizumab) as first-line treatment for patients with advanced or metastatic melanoma.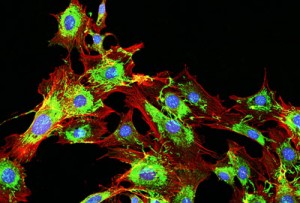 Epacadostat, a selective IDO1 inhibitor, and Keytruda, a PD-1/PD-L1 antagonist, are designed to enhance the body's own defences in fighting cancer; the two therapies target distinct regulatory components of the immune system. IDO1 is an immunosuppressive enzyme that has been shown to induce regulatory T cell generation and activation, and allow tumours to escape immune surveillance. Keytruda is a humanised monoclonal antibody that blocks the interaction between PD-1 and its ligands, PD-L1 and PD-L2. Preclinical evidence suggests that the combination of these two agents may lead to an enhanced anti-tumour immune response compared with either agent alone.
The Phase 3 study is expected to begin in the first half of 2016.
Combination of epacadostat and Keytruda showed promise in preclinical studies
 "We are very pleased to expand our collaboration with Merck and to move the clinical development programme for epacadostat in combination with Keytruda into Phase 3," said Hervé Hoppenot, President and Chief Executive Officer of Incyte. "We believe the combination of these two immunotherapies shows promise and, if successfully developed, may help to improve clinical outcomes for patients with metastatic melanoma."
"The initiation of this large Phase 3 study with Incyte in the first-line advanced melanoma treatment setting is an important addition to our robust immunotherapy clinical development programme for Keytruda," said Dr Roger Dansey, senior vice president and therapeutic area head, oncology late-stage development, Merck Research Laboratories. "We continue to explore the benefit that Keytruda brings to patients suffering from advanced melanoma when used alone, and we are pleased to be able to add this important combination study with epacadostat to our Keytruda development programme."
Incyte and Merck have also agreed, for a period of two years, not to initiate new pivotal studies of an IDO1 inhibitor in combination with a PD-1/PD-L1 antagonist as first-line therapy in advanced or metastatic melanoma with any third party. During this time, the companies will each offer the other the opportunity to collaborate on any new pivotal study involving an IDO1 inhibitor in combination with a PD-1/PD-L1 antagonist for types of melanoma and lines of therapy outside of the current collaboration agreement.
Related organisations
Related diseases & conditions