Pfizer and Allergan considering a merger
Posted: 29 October 2015 |
Allergan has said that it is in preliminary "friendly discussions" with Pfizer regarding a potential business combination transaction…

Allergan has confirmed that it has been approached by Pfizer.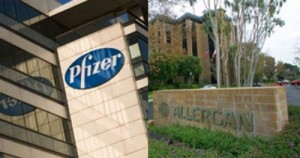 The company has said that it is in preliminary "friendly discussions" with Pfizer regarding a potential business combination transaction. Allergan stated that no agreement has been reached and there can be no certainty that these discussions will lead to a transaction. The company also said it will not comment on speculation regarding the terms of a potential transaction.
If the deal does go ahead, the combined company would be the largest drugs manufacturer in the world, worth more than $300 billion.
Allergan still to divest its generics business to Teva
Under any potential scenario with Pfizer, Allergan says that it remains strongly committed to complete the proposed divestment of its global generics business to Teva Pharmaceutical Industries Ltd and expects the generics divestiture transaction to close in the first quarter of 2016.  Allergan announced that it was divesting its generics business to Teva in July for $40.5 billlion.