11th World Drug Delivery Summit
16 – 18 October 2017
New York, USA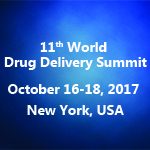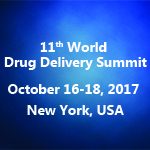 Date: 16 – 18 October 2017
Location: New York, USA
Email: [email protected] 
Website: http://drugdelivery.pharmaceuticalconferences.com/
Event Description:
ConferenceSeries LLC invites all the participants across the globe to attend 11th World Drug Delivery Summit, during October 16-18, 2017, at New York, USA is the only conference relates to Drug Delivery Technology and its applications. Conference highlights the theme Next generation advancements in Drug Delivery Systems Summit offers a best platform to get certified worldwide with its well organized scientific program to the audience which includes interactive panel discussions, keynote lectures, plenary talks and poster sessions, Young Research Forms and 20+ Exhibitors on the topics for whole pharmaceutical industry and academics.
Conference scientific sessions are:   
Drug Delivery Technology, Novel Drug Delivery Systems, Routes of Drug Administration, Pharmaceutical Nanotechnology, Nucleic Acid Based Drug Delivery, Smart Drug Delivery Systems, Vaccine Design and Delivery Technology, Drug Delivery Companies and Markets, Bio therapeutics as Novel Technique in Drug Delivery, Drug Delivery and Device Development, Recent Advances in Drug Delivery , Major Challenges in Drug Delivery, Peptide and Protein Drug Delivery, Drug Delivery Equipment's and Machinery, Business Opportunities in Drug Delivery and Entrepreneurs Investment Meet.
Drug Delivery Renowed speakers:
Gjumrakch Aliev,

President and CEO of GALLY International Biomedical Research, USA

Vladimir Torchilin,

Director, Center for Pharmaceutical Biotechnology and Nanomedicine, USA

Riccardo Panicucci,

Vice President, WuXi AppTec, USA

Tonglei Li,

Purdue University, USA

Robert J. Lee,

The Ohio State University, USA
Email us for any queries contact:
Riley Matthews, Drug Delivery 2017 | 2360 Corporate Circle, Suite 400 │Henderson, NV 89074-7722, USA
Office 1-702-508-5200 Ext: 8046, E-mail: [email protected] or [email protected] 
For more about Drug Delivery scientific program and confirmed speakers please go through below link,
PS: http://drugdelivery.pharmaceuticalconferences.com/   
All accepted abstracts will be published in the respective supporting International Journal
Abstracts will receive a Digital Object Identification Number (DOI) provided by Cross Ref
Live streaming is value added service provided to Speakers    
Hurry!! To book to your slots and avail early bird discounts.
Free faculty's passes if 10 or more students registered.
Special discounts will be provided for group registrations.