Polyelectrolyte complexes as nanoparticulate drug delivery systems
Polyelectrolyte complexes at the nanoscale (polyelectrolyte complex nanoparticles; PECNs) can be harnessed as drug delivery systems for a range of low molecular weight drugs as well as peptides and proteins. The mild method of manufacture of PECNs results in the protection of the loaded bioactive and the choice of polyions forming the carrier makes PECNs very flexible in the design of a range of medical and pharmaceutical applications. This paper presents the key characteristics of PECNs and developments in the area.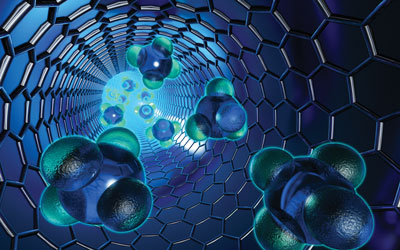 Nanoparticles (NPs) are currently being widely investigated for their medical applications as drug delivery systems as well as for diagnostic, medical imaging and tissue engineering purposes. Since nano technology offers a suitable means of controlled and/or site-specific delivery of low and high molecular weight drugs and macromolecules, considerable efforts have been dedicated to explore its potential use in drug delivery.1 The primary focus of pharmaceutical nanotechnology is formulation of active ingredients into biocompatible NPs. These systems offer many advantages over conventional delivery systems as they focus on efficacy of the active by improving its bioavailability and targeted delivery, improved safety, extending the molecule half-life in the target tissue and enhancing its stability against chemical and/or enzymatic degradation.
The submicron size is the key basis for many advantages of NP-based drug delivery systems due to enormous surface area of NPs and thus better absorption properties compared to larger carriers.1,2 It is very important for medical applications that NPs are biocompatible and biodegradable. Serious issues with respect to biocompatibility and toxicity are disadvantages of some NPs such as carbon nanotubes, fullerenes, quantum dots and other metal-based nanoparticles…