Informatics In-Depth Focus 2015
In this Informatics In-Depth Focus: Informatics in 2025, Methods for the detection of drug-drug interactions in text & Computational approaches to mutagenicity assessments of impurities: in silico methods…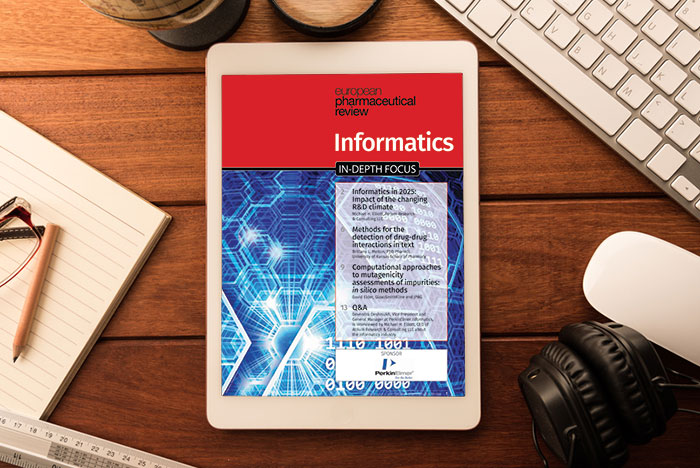 Informatics in 2025: Impact of the changing R&D climate
Michael H. Elliott, Atrium Research & Consulting LLC
As a market research and strategic consulting firm, Atrium Research is often asked to project future trends in research and development (R&D) within the field of informatics. This is not an easy task; there are breathtakingly rapid changes in technology and the pharmaceutical industry is undergoing considerable transformation. Peter Drucker said it best: "Trying to predict the future is like trying to drive down a country road at night with no lights while looking out the back window." An analysis of historical trends does, however, provide a streetlight for envisioning the technology necessary to buttress future state R&D operating models…
Methods for the detection of drug-drug interactions in text
Brittany L. Melton, PhD, University of Kansas School of Pharmacy
Pharmacovigilance is important in monitoring for drug safety, but it also serves as an opportunity to detect new drug-drug interactions. While some interactions can potentially be identified by chemical structures or action sites, not all are identifiable by this method, necessitating additional ways of detection. An enormous amount of data is collected daily in healthcare and it is often the first time drug-drug interactions may be detected due to the larger number of patients using medications in practice. While some of the data are in easily extractable and analysable formats, information regarding drug-drug interactions is more likely to be found embedded in text, such as physician and therapy notes within the patient's medical records. In order to identify novel drug-drug interactions, methods are being developed to mine information within text…
Computational approaches to mutagenicity assessments of impurities: in silico methods
David Elder, GlaxoSmithKline and JPAG
In silico, computational methods provide a cost effective, rapid and predictive means for screening impurities and putative metabolites for mutagenicity. Obviously, in silico methods need to be used in concert with in vitro mutagenicity assays, e.g., the Ames test. The prediction of mutagenicity based on alerting structures was initiated by Ashby and Tennant, who established that there were significant correlations between certain chemical structures, Salmonella mutagenicity and carcinogenicity. The original Ashby and Tennant alerting structures were based on industrial chemicals and these are typically electrophilic and reactive in nature. However, reactive intermediates are also used in synthetic chemistry and to a lesser extent also reflect the type of breakdown products, e.g., degradants of drug substances and drug products.
This Informatics In-Depth Focus is restricted to logged-in members. Login or subscribe free to read it.