The threat of antibiotic resistance
We've created an infographic on the threat of antibiotic resistance, highlighting some of the recommendations made by the Review on AMR…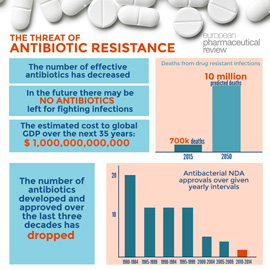 Over the last thirty years the number of new antibiotic approvals has dropped. According to the Pew Institute, only two antibiotic products were approved by the US Food and Drug Administration in 2015. Many of the products approved in recent years are second, third or fourth generation antibiotics, meaning they are follow-up compounds, without a novel mechanism of action.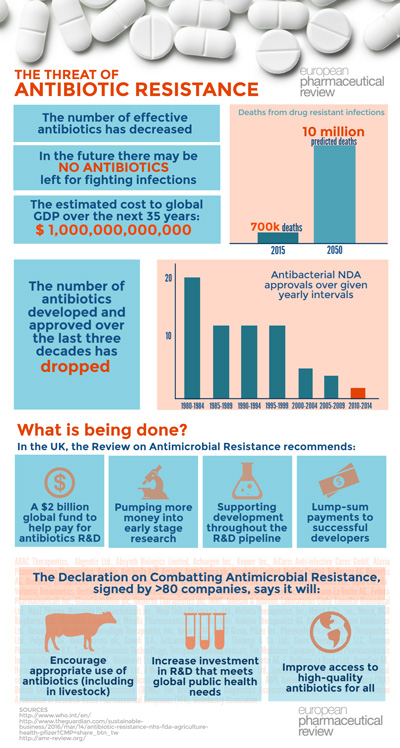 Writing in The Pharmaceutical Journal, Elizabeth Sukkar explained that pharmaceutical companies have faced a conundrum when it comes to developing antibiotics – there is great demand for new therapies but due to concerns of resistance, there is pressure from policy-makers for their use to be limited. Also, as antibiotics are used as short-term therapies, there has not been a financial incentive for companies to pursue new compounds. Indeed, research from the Review on Antimicrobial Resistance shows that profit from antibiotic research is only achieved, on average, in year 23 of a product's life. Profit might only be reached ten years after a product has been approved and this only provides a small window for on-patent sales.
But could things be changing? Change certainly needs to happen according to Jim O' Neill's Review on Antimicrobial Resistance (AMR). Commissioned by the UK government to analyse the threat of antibiotic resistance, the review engages with international stakeholders to understand and propose solutions to antimicrobial resistance. The review highlights that drug resistance has serious implications and will be felt the world over: routine surgeries and minor infections will become life-threatening once again, and hospital stays/expenses will increase significantly. The review notes that infections are on the rise with 50,000 lives lost each year to antibiotic-resistant infections in Europe and the US alone. By 2050, the number of deaths from drug resistant infections is predicted to surpass the number of deaths from cancer.
While the Review will make its final recommendations to the Prime Minister in the summer, it has already outlined five specific action steps that could help tackle the global crisis of antibiotic resistance:
Increase early science funding to tackle AMR
Make existing drugs go further
Support the development and use of relevant diagnostic technologies
Invest in the people who will solve the problem
Modernise the way surveillance of drug resistance is done and used globally
The pharmaceutical sector have taken note, and in January, 80 companies and organisations signed an industry call-to-action: the Declaration on Combating Antimicrobial Resistance. (AMR). The declaration outlines for the first time how industry and governments can work together to support sustained innovation to address the growing problem of AMR. It calls on governments around the world to now go beyond existing statements of intent and take concrete action, in collaboration with companies, to support investment in the development of antibiotics, diagnostics, vaccines, and other products vital for the prevention and treatment of drug-resistant infections.
Antibiotics R&D at ECCMID
Antimicrobial resistance and antibiotics took centre stage at the recent annual conference of the European Society of Clinical Microbiology and Infectious Diseases (ESCMID), ECCMID.
At ECCMID, Dr Ursula Theuretzbacher led a session that gave an overview of the research and development programmes that are driving innovation in the antimicrobial treatment space. It seems that small biotechnology companies and start-ups are rising to the challenge through the discovery and development of novel therapies.
Dr Ursula Theuretzbacher remarked: "We are pleased to see a number of highly promising antibacterial drugs of a new class and or a new mode of action now in the research or close to the preclinical phase. To aid the development of more drug candidates, crucial to increasing the chances of a sufficient number reaching the clinical stage, innovative researchers in small companies or universities are pursuing a range of non-traditional approaches in addition to classical ones."
Eight companies presented their products in research and development at ECCMID. This gave companies with products in the early stages of research and development a platform to provide an overview of their pipelines and to present recent advances in their early-stage programmes. It also highlighted that much-needed research into new and innovative antibiotics is happening now.