Shehnaaz Suliman Theravance Biopharma: 'Being a healer in the face of inequality'
As part of EPR's Women Inspiring Pharma series, Shehnaaz Suliman, SVP, Business Development and Strategy, Theravance Biopharma talks to Science Editor Dr Zara Kassam about fighting for human rights, inequality and the challenges women face in their careers…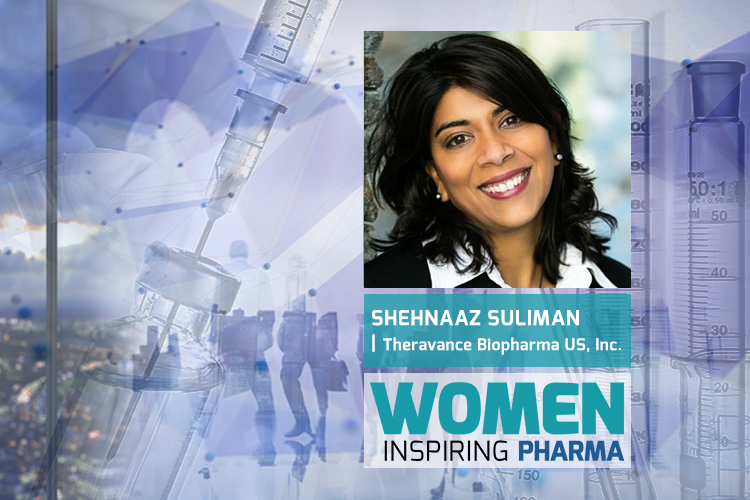 Tell me about your career? (A brief summary to date )
I grew up in South Africa under apartheid. I spent much of my time as a school girl protesting and fighting for human rights and for the release of Nelson Mandela. The early experience of standing up for basic human rights and dignity for all has defined who I am as a person.
The early experience of standing up for basic human rights and dignity for all has defined who I am as a person
During this time, thanks to the efforts of a few good teachers and extraordinary effort in the final exam, I won a scholarship to the University of Cape Town Medical School in 1989, as one of the first non-white students allowed to attend under a quota system.
After graduating, I did my residency at a mining hospital in Welkom, South Africa, where I worked at the frontline of human suffering fueled by social and economic inequality. Many of the mining company workers were migrant workers from neighbouring African countries. They were dirt poor with few job options and had left their families in Lesotho and Zimbabwe to work in the mines. They were at risk for contracting tuberculosis or HIV; many died of AIDS and related complications because we had few treatment options. The healthcare support provided at the hospital was inadequate and not addressing the root cause.
I decided that being a healer in the face of such inequality was simply not enough. I wanted to have an impact that could change the lives of thousands, and not just one. That opportunity came when I won a Rhodes scholarship to the University of Oxford business school where I pursued development studies because of my interest in public health.
My journey took an unexpected turn after graduation when Lehman Brothers offered me the opportunity to work in healthcare. This became my introduction to the world of biotech and pharmaceuticals. Because of my experience in the developing world and as a physician, I was compelled by the idea of working in an industry in which innovative science could lead to transformative therapeutics, changing the lives of thousands of patients. I was also highly aware of unequal access to treatments across the world and wanted to explore how that could be changed.
I decided that being a healer in the face of such inequality was simply not enough. I wanted to have an impact that could change the lives of thousands, and not just one
My first industry job was with Gilead Sciences, in 2005. I was hired to help the company diversify beyond its then-primary HIV focus. I was intimately familiar with unmet needs from my time as a physician treating patients dying of AIDS in the mines of South Africa. The senior leadership team including John Martin, CEO, and Gregg Alton, EVP of Corporate and Medical Affairs, was engaged in a thoughtful dialogue about how to create solutions to enable access. At that time in 2006, only about 30,000 people in needy underdeveloped nations were being treated, although some 30 million were in need.
When we arrived at a solution, I executed partnerships with generic companies in India and Africa to manufacture generic versions of Gilead's HIV drugs. These partnerships gave generic companies access to Gilead's proprietary manufacturing technology, allowing them to fast-track generic copies for the developing world. As a result of these deals, today there are more than 10 million patients in the developing world benefitting from life-saving HIV drugs.
After Gilead, I was recruited by Genentech to work in research and development from 2010 through 2015. This got me closer to the science and early-stage development of therapeutics that is at the heart of unlocking innovation. While at Genentech, my love of science and working on behalf of disenfranchised patients in the developing world put me in a position to negotiate and lead a groundbreaking study on Alzheimer's patients in Colombia. That project led to a molecule that is now in Phase 3 clinical trials. As one of the world's first prevention trials in Alzheimer's disease, the learnings from this study can unlock critical insights about the course of the disease that is potentially applicable to millions of Alzheimer's patients around the world. Genentech received the Economist Innovation Award in 2013 for its groundbreaking approach to research and innovation as a result of this study, which is also the subject of a PBS documentary "Can Alzheimer's be stopped" which aired in April 2016.
After Genentech, I was promoted to Vice President Global Head of Immunology, Infectious Diseases and Specialty Care in the Roche Partnering Group. My team and I led the effort to build an immunology and infectious disease portfolio for the Roche R&D organisation. I left Roche last summer when I was recruited to join the Executive team at Theravance as Senior Vice President and Head of Corporate Development and Strategy.
I was attracted to the open culture and the executive team at Theravance. Renee Gala, the CFO, is an active advocate for an internal women's leadership network that proactively supports and nurtures female talent.
 What does your current role entail?
I am currently Senior Vice President of Corporate Development & Strategy at Theravance Biopharma since July 2017, where I am responsible for leading the company's business development activities and overall corporate strategic initiatives. This includes determining which future directions the company wants to grow into through deal opportunities – as well as how we can maximise value.
Theravance recently announced a $1B transformative transaction with Janssen to develop and commercialise a novel gut-selective JAK inhibitor program for immunology indications.
Do you think being a woman in the Pharma industry is a challenge?
There are challenges in Pharma that can become evident particularly as women progress in their careers.
These challenges are felt more acutely in certain functions such as research, finance and some corporate strategic functions. This has been echoed by the Lean In Mckinsey research in which the distinction is made between "line versus staff" positions and how career choices about these roles, and how it can affect women's career options later on.  
Staff roles in pharma would be roles like specific research functions or sales roles, whereas line roles would be more cross-functionally oriented or strategic roles such as product or franchise head roles, functional head roles or strategic roles.
The key thing is to focus on building skills and not just resumes. Think about lateral moves as a way to develop new core competencies but don't dwell in a lateral position for too long
There is often a paucity of cross-functional strategic projects that women at certain levels – such as the senior manager level, for example. Often these decisions to enable access are made by their manager. I often hear from women at this level in their careers that they don't how to access these opportunities or often feel that they need to compete with others and shy away from being proactive. The risk aversion around going for it or engaging in a competitive process can be a real reason for excluding women from opportunities that could propel them to the next node in their careers.
I am often coaching and mentoring women about how to have crucial conversations with their managers about access to opportunity and having a directed dialogue about engaging their managers so that they are directly invested in enabling this. It's a perfectly ok conversation to have.
As women rise through their careers, ensuring a balance between personal and professional life choices can present conflicts. I've experienced some of this when I had to forego opportunities at Gilead which would have included travelling a significant proportion of the time after my second child.
Are there any examples within your company in particular where women have been successful?
Yes, Theravance is an organisation that has a woman-inclusive culture with a few women at very senior positions within the company, including the CFO, Head of Corporate Development & Strategy and a woman as the Head of Biology Women are supported at all stages of their careers due to an enhanced mindfulness about the importance of developing talent and avoiding unconscious bias. The CFO, Renee Gala started a women's leadership network initiative
The Women's Leadership Network has been instrumental in fostering a community for women to come together to share experiences and learn from each other in a non-judgmental, unbiased environment.
The programming content, which is women-centric, is geared toward highlighting blind spots that women may ignore as they advance in their professional trajectory and also how to harness strengths and behaviours that are empowering.
Male colleagues are very mindful of its existence. It serves as a reminder that we should embrace a culture geared toward gender equity in which everyone has equal access to opportunity. It helps create a strong sense that women in our culture matter every bit as much and that we ultimately benefit from fostering an inclusive culture and stable meritocracy for all.
What have you experienced as barriers to success on your career path, and what advice would you give to women who come up against these same barriers?
I've certainly felt the need to compete for high impact, high visibility projects. Knowing what these projects were and why they mattered was needed in order to know where to expend time and effort. It was a barrier in the sense that the decision to name people to projects was often not entirely evidence-based. Sometimes managers made decisions based on prior history, loyalty and likeability rather than fit and competence. Since likeability is intangible – sometimes that is a function of who hangs out with who and when.
Activities such as after dinner drinks at the pub or playing a few rounds of golf though not gender specific – often carry the veneer of being male-oriented bonding activities. It's a common presupposition that if women rise rapidly and are competent that they become less likeable. I think this is a huge stereotype that should be dispelled. I've never felt the need to compromise my authenticity for competence. Or that I somehow became less likeable with each successive job.
I have been very fortunate to have established credibility with senior men and women leaders who took a chance on me and enabled access to opportunities that have propelled me to incrementally senior roles in biotech and biopharma. I have definitely felt competitively disadvantaged at times, because of my lack of mobility or choice to spend less rather than more time on the road travelling for work. I've been envious of a number of my male colleagues whose stay at home spouses were happy to move across the country at the drop of a hat to support their career choices. I advise others – to choose projects wisely – focus on the ROI. on the side of solving tough business problems that are going to have a meaningful impact rather than going for easy wins. Building trust is absolutely foundational and it cannot happen without establishing credibility. Strive to achieve mastery in your work. Go for the ball.
 What can women do to prepare themselves to reach the C-suite in the pharmaceutical and healthcare industries?
The key thing is to focus on building skills and not just resumes. Think about lateral moves as a way to develop new core competencies but don't dwell in a lateral position for too long. Focus on building line skills as well as staff skills. Being on or leading a cross-functional team is a terrific learning opportunity and gift. Don't shy away from these.
Looking more broadly at the industry do you think there is a glass ceiling for women in Pharma and is it any worse than in other industries?
The statistics suggest that the funnel of women in senior positions (VP and above, General Partners) becomes precipitously narrowed to VP and beyond. It's my impression that our tech colleagues have engaged with this more openly. Viable improvement in recruiting and retaining female leaders needs to come from the top, as the way we do business. Too often 'inclusion' and retention efforts for top female talent are led by employees with no real power to hire, mentor, or recruit female leaders. Theravance is one of the exceptions.
When I was at Roche, Severin Schwan, the CEO, made it a corporate goal to ensure that women be in senior positions. He was very explicit and transparent about the benefits of embracing gender diversity as a key business objective.
At Genentech there was a very strong culture of supporting women through a striking array of formal and informal initiatives. A focused initiative was undertaken in research, in particular, to ensure that hiring managers were screening equally qualified candidates, independent of gender. 
Currently, men outnumber women in science graduate degrees in the UK – how can we better address this imbalance to encourage more women into biology, chemistry, mathematics, and so on?
In general, I strongly believe in exposing girls to role models early on so that they can develop a tangible impression of what a career in science can look like. Girls should be exposed to a variety of phenotypic careers – lab scientists, clinical drug development, finance professionals, sales and marketing, business development, operations in order to understand the depth and breadth of possibilities.
How could the Pharma industry benefit if more women were in higher roles?
Diversity of talent and thinking is a competitive advantage. Drug discovery and innovation is usually the product of teams, not individuals. The biotech companies that recognise this will seek the best talent independent of gender – and benefit from it. This has always seemed like a no-brainer to me.