David Brennan to retire as AstraZeneca's Chief Executive Officer
AstraZeneca announced that Chief Executive Officer and Board member, David Brennan has decided to retire…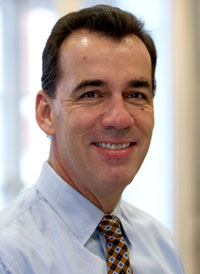 David Brennan, CEO, AstraZeneca
AstraZeneca today announced that Chief Executive Officer and Board member, David Brennan has decided to retire.
Following David's decision, the Board has asked Executive Director and Chief Financial Officer Simon Lowth to act as interim Chief Executive Officer from 1 June 2012 until a permanent successor is in place. Julie Brown, Vice President Group Finance, will become interim Chief Financial Officer on the same date. David Brennan will retire from AstraZeneca and relinquish his Board responsibilities on 1 June 2012.
AstraZeneca also announced today that Leif Johansson will succeed Louis Schweitzer as Non-Executive Chairman on 1 June 2012 – three months earlier than previously announced – and will become Chairman of the Nomination and Governance Committee after today's Annual General Meeting. This will enable Leif to lead the selection process for David Brennan's successor including both internal and external candidates. Leif Johansson's appointment to the AstraZeneca Board is subject to approval by shareholders at the company's Annual General Meeting.
David Brennan said: "After more than six years as Chief Executive Officer of this great company I have decided that now is the right time to step down and allow a new leader to take the reins. The Board's decision to appoint Simon Lowth as interim Chief Executive Officer has my full support and I am confident that AstraZeneca will continue to have a positive impact on the lives of patients around the world and by doing so will deliver real value to our shareholders."
Louis Schweitzer, Chairman of AstraZeneca said: "David has led AstraZeneca's business with skill, integrity and courage during a period of enormous change for the pharmaceutical industry and for the company. We fully understand and respect David's decision to retire and thank him for his selfless leadership of the company."
Commenting on the appointment of Simon Lowth as interim Chief Executive Officer, Louis Schweitzer said: "I know we can count on Simon's leadership, supported by a strong and experienced Senior Executive Team, to maintain focus and momentum as the Board seeks a smooth transition to a new chief executive over the coming months."
David Brennan was appointed to his current role in January 2006 and is one of the longest serving chief executives in the pharmaceutical sector.
Related organisations
Related people