Trial testing anti-coronavirus hIVIG plus remdesivir in COVID-19 patients
The ITAC trial will establish if adding hyperimmune intravenous immunoglobulin (hIVIG) to a remdesivir regimen can improve hospitalised COVID-19 patient outcomes.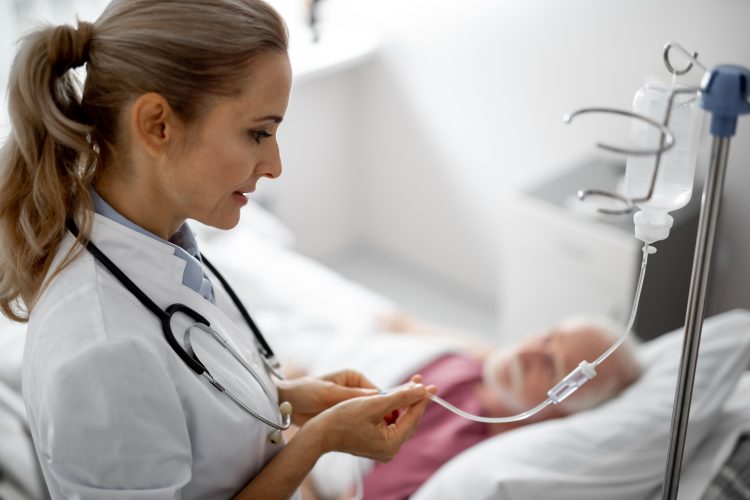 A Phase III trial to evaluate the safety, tolerability and efficacy of a combination of the antiviral remdesivir and a highly concentrated solution of SARS-CoV-2 neutralising antibodies in hospitalised adult COVID-19 patients has begun.
The trial, called Inpatient Treatment with Anti-Coronavirus Immunoglobulin (ITAC), will enrol 500 hospitalised adults (aged 18 or older) who have had COVID-19 symptoms for ≤12 days and do not have life-threatening organ dysfunction or failure. The trial is being conducted at up to 58 sites in the US, Mexico, Africa, Asia and Europe.
The antibody solution being tested in the ITAC trial is anti-coronavirus hyperimmune intravenous immunoglobulin (hIVIG). The antibodies in anti-coronavirus hIVIG are derived from the plasma of convalescent COVID-19 patients. These antibodies are highly purified and concentrated so that the hIVIG contains several times more SARS-CoV-2 neutralising antibodies than typically found in the plasma of people who have recovered from COVID-19.
The ITAC investigators hypothesise that giving patients anti-coronavirus hIVIG at the onset of COVID-19 symptoms, before the body makes a protective immune response on its own, could augment the natural antibody response to SARS-CoV-2 and therefore reduce the risk of more serious illness and death.
"Finding safe and effective treatments for COVID-19 is absolutely critical," said US National Institute of Allergy and Infectious Diseases (NIAID) Director Dr Anthony Fauci. "The ITAC trial will examine whether adding anti-coronavirus hIVIG to a remdesivir regimen can give the immune system a needed boost to suppress SARS-CoV-2 early in the course of illness, nipping the infection in the bud."
ITAC study participants will be randomly assigned to receive infusions of either anti-coronavirus hIVIG and remdesivir or a placebo and remdesivir. The anti-coronavirus hIVIG will be given as a single infusion of 400mg/kg of body weight. Remdesivir infusions will be administered with an initial 200mg loading dose, followed by 100mg once-daily intravenous maintenance doses during hospitalisation for up to 10 days.
The trial will compare the health status of participants in the combination treatment group with participants in the remdesivir-only group on day seven. Health status will be assessed on a scale of seven categories ranging from no limiting symptoms due to COVID-19 to death.
The study participants will be followed for 28 days. If the trial goes to completion, the primary analysis will be completed after all participants finish 28 days of follow-up.
An independent data and safety monitoring board (DSMB) will review interim safety and efficacy data to ensure patient well-being and safety as well as study integrity.
Four companies are collaborating to provide anti-coronavirus hIVIG for the trial: Emergent BioSolutions; Grifols SA; CSL Behring; and Takeda Pharmaceuticals. The last two are providing anti-coronavirus hIVIG on behalf of a partnership of plasma companies called the CoVIg-19 Plasma Alliance.
Find further information about the ITAC trial here: NCT04546581.