BioMarin provides highlights ahead of research and development day
Members of BioMarin's management team and industry experts will provide an update on the company's product portfolio and advancements in the research and development pipeline…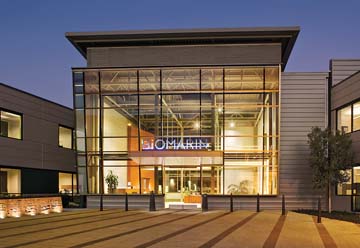 BioMarin Pharmaceutical Inc. (Nasdaq:BMRN) today announced highlights to be presented at the company's Research and Development Day for the investment community to be held today from 8:00 a.m. to 12:00 p.m. ET. Members of BioMarin's management team and industry experts will provide an update on the company's product portfolio and advancements in the research and development pipeline. Interested parties may access a live audio webcast and slides of the presentation via the investor section of the BioMarin website, www.BMRN.com.
Vimizim for the Treatment of Morquio A
BioMarin announced today that it expects that Vimizim will be reviewed by the U.S. Food and Drug Administration Advisory Committee on November 19, 2013. The Company noted that the FDA has previously granted Vimizim priority review designation and assigned a PDUFA date of February 28, 2014. The European Medicines Agency (EMA) has validated the Vimizim Marketing Authorization Application (MAA) and has granted accelerated review status, which could lead to a (Committee for Medicinal Products for Human Use) CHMP opinion before year end. During the second quarter of 2013, the company also submitted the Marketing Authorisation (MA) in Brazil. Ongoing production of bulk drug substance and drug product will allow for a global launch of Vimizim following approvals in multiple countries. Both the FDA and EMA have conducted or scheduled pre-approval inspections associated with the review of the marketing applications.
BMN 701 for the Treatment of Pompe Disease
The company announced that it has received agreement from the FDA that Maximal Inspiratory Pressure (MIP) may be utilized as the primary endpoint for its anticipated Phase 3 switching trial with BMN-701, a fusion protein of insulin-like growth factor 2 and acid alphaglucosidase (IGF2-GAA) for the treatment of late-onset Pompe disease. Discussions with European regulators regarding primary endpoint and study design are still ongoing.
Subject to completing discussions with European health authorities, the company expects to initiate a Phase 3 switching trial by the fourth quarter of 2013 or the first quarter of 2014 in late-onset Pompe patients who have previously been treated with alglucosidase alfa. The proposed study design is a single-arm trial, with treatment at 20 mg/kg administered every other week for 24 weeks. The company intends to use efficacy as measured by the respiratory parameter MIP as the primary endpoint. MIP is the maximal pressure that can be produced by the patient trying to inhale through a blocked mouthpiece. Secondary objectives include MEP and six-minute walk test, as well as safety. The study will be conducted with full scale material from a revised manufacturing process, which has improved process robustness and increased productivity.
BMN 111 for the Treatment of Achondroplasia
The company announced today that based on recent meetings with the FDA and the Medicines and Healthcare Products Regulatory Agency (MHRA) it will be able to proceed directly to a Phase 2 study of BMN 111, an analog of C-type Natriuretic Peptide (CNP), for achondroplasia. BioMarin previously completed a Phase 1 study in adult healthy volunteers. The FDA had placed a partial clinical hold on BMN 111, but at a recent meeting indicated that following submission of a modified Phase 2 protocol, and withdrawal of the previous Phase 2 study protocol, the clinical hold can be lifted and that no further data is required before initiating a Phase 2 study. The company expects to initiate its first global study in pediatric patients with achondroplasia in the fourth quarter of 2013 or the first quarter of 2014.
BMN 190 for the Treatment of Batten Disease
The company announced today that it has initiated the Phase 1/2 study for BMN 190, a recombinant human tripeptidyl peptidase 1 (rhTPP1) for the treatment of patients with neuronal ceroid lipofuscinosis type 2 (NCL-2), a form of Batten disease. The first patient has been enrolled and is expected to receive initial drug dosing within 7 days.
The Phase 1/2 study is an open-label, dose-escalation study in patients with NCL-2. The primary objectives are to evaluate the safety and tolerability of BMN 190 and to evaluate effectiveness using an NCL-2-specific rating scale score in comparison with natural history data after 48 weeks of treatment. Secondary objectives are to evaluate the impact of treatment on brain atrophy in comparison with NCL-2 natural history after 48 weeks of treatment and to characterize pharmacokinetics and immunogenicity. The study will enroll approximately 22 subjects at up to ten clinical sites worldwide for a treatment duration of 48 weeks.
BMN 673 for the Treatment of gBRCA Breast Cancer
With BMN 673 PARP inhibition with BMN 673 in ovarian and breast cancer patients with deleterious mutations of BRCA1 and BRCA2 has been selected as a late breaking abstract by the 17th ECCO — 38th ESMO — 32nd ESTRO European Cancer Congress in Amsterdam, The Netherlands and will be presented in an oral presentation on September 29, 2013.