Talk to Tecan @ SLAS2014
Join Tecan on booth #405 at this year's SLAS Conference and Exhibition in San Diego, California, to discover the latest developments in automated liquid handling…

Join Tecan on booth #405 at this year's SLAS Conference and Exhibition in San Diego, California, to discover the latest developments in automated liquid handling. From the 18th to 22nd of January, this annual event will once again play host to the very best in laboratory equipment from around the world, together with a wide range of presentations, seminars and workshops designed to ignite imaginations and push the boundaries of laboratory automation.
As automation becomes commonplace in many laboratories, its influence has stretched far beyond increased throughput, making laboratories more creative places in which innovation can truly thrive. As a leading supplier of automated liquid handling and detection systems, Tecan is at the forefront this market, developing novel solutions which allow research scientists to do new things in better and faster ways. From the increased freedom and process security offered by products such as nested disposable tips and the Common Notification System (CNS), to the simplified processes provided by the TouchTools™ PCR Wizard, AC Extraction Plate™, Infinite® series readers or Cavro® range of OEM robots, Tecan will be showcasing a broad portfolio of laboratory automation solutions designed to streamline your laboratory workflow.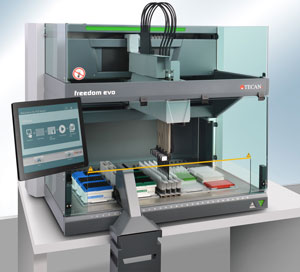 In addition to highlighting these latest developments, Tecan will be helping delegates to use automation to drive forward their research, with seminars on remote monitoring with CNS and automated sample preparation for mass spectrometry with the AC Extraction Plate, plus a workshop on how to get the most from your laboratory automation equipment.
Join Tecan at booth #405 or visit www.tecan.com/slas2014 to learn more.