METTLER TOLEDO's XS Balance line delivers performance and ergonomics to safeguard health in the workplace
Posted: 16 October 2014 |
The extended and improved XS balance line incorporates patented weighing technologies to ensure accurate results whilst ergonomic design features provide outstanding comfort to protect user health during daily weighing tasks.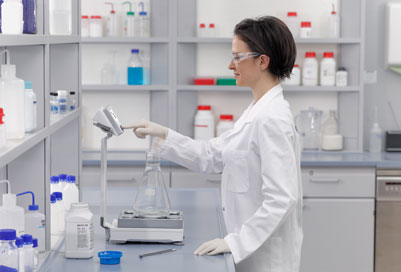 METTLER TOLEDO's newly improved XS balance line includes analytical and precision balances as well as a dual range microbalance. As a revolutionary step in balance performance, the new SmartPan™ weighing pan delivers results up to twice as fast, even in a fume cupboard. On all balances, ergonomic design details mean users no longer need to suffer the stresses and strains from working for long periods in front of the balance. Barbara Bienlein, medical specialist and managing director at MedicalForce stated, "Correct posture and ergonomic processes help to avoid health conditions such as repetitive strain injuries which are common in laboratory workers."
Building on the proven technology of the SmartGrid™ weighing pan on the analytical balances, small platform precision balances feature the new SmartPan weighing pan and demonstrate up to twice as fast stabilization times with results repeatability improved up to two-fold, even in the turbulent weighing conditions of a fume cupboard. Minimum weight can also be significantly reduced – particularly useful when working with expensive or toxic substances. In addition, SmartPan dismantles easily; the built-in tray underneath keeps spilled substances contained for safe disposal and easy cleaning. Cleaning is much more efficient and users are protected against exposure to hazardous chemicals.
METTLER TOLEDO has optimized the XS balance line to provide a capacity and performance range to meet the needs of a wide variety of applications, from weighing out a few milligrams for sample preparation in the laboratory to check weighing on the factory floor. The smallest design features have been carefully thought about so that all users can carry out their daily tasks as ergonomically as possible. For example, placing the terminal at eye-level on the optional quick-lock ErgoStand eliminates excessive bending of the neck and encourages a good working posture. The tilt of the terminal can be adjusted to achieve the perfect 35° viewing angle for users of different heights.
The terminal features an improved user interface for ease of operation. Shortcuts can be set up on the main screen for direct access to everyday tasks. At up to 16mm high, the large figures on the display are bright and clear to read. Eyes don't get tired and concentration remains focused on the weighing task. Figure size, contrast and brightness are all configurable to individual comfort levels.
Bienlein continued, "The XS balances have made a major step forward in safeguarding users against common workplace health problems such as pains in the back, hands, arms and neck, tired and strained eyes, and irritation or illness from exposure to chemicals."
To view the full product range, please visit: www.mt.com/balances
Related topics
Related organisations