AstraZeneca receives planning consent for new global R&D centre and corporate headquarters in Cambridge, UK
Posted: 4 February 2015 |
AstraZeneca announced that Cambridge City Council has granted planning permission for the Company's new global R&D centre and corporate headquarters in the City…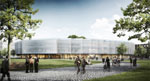 AstraZeneca today announced that Cambridge City Council has granted planning permission for the Company's new global R&D centre and corporate headquarters in the City. The purpose built facility will be located on the Cambridge Biomedical Campus and will be home to approximately 2,000 employees.
Mene Pangalos, Executive Vice President, Innovative Medicines & Early Development at AstraZeneca said: "We are very pleased with today's decision by Cambridge City Council. Work is underway to prepare the site on the Cambridge Biomedical Campus and we look forward to beginning construction in the spring. Our aim is to create an open, welcoming and vibrant centre that will inspire our teams and partners to push the boundaries of scientific innovation for the benefit of patients."
The Cambridge site will bring together AstraZeneca's small molecule and biologics research and development activity, furthering opportunities to exploit the promise of small and large molecule combinations to make innovative medicines. It will become the company's largest centre for oncology research, as well as housing scientists focused on cardiovascular and metabolic diseases, respiratory, inflammation and autoimmune diseases and conditions of the central nervous system. The site will also be home to a joint research centre, which will see Medical Research Council-supported researchers working side-by-side with AstraZeneca's high throughput screening group.
In advance of the new site becoming operational at the end of 2016, over 400 AstraZeneca staff have already relocated to interim facilities in Cambridge, at the Melbourn Science Park, Cambridge Science Park and Granta Park, to cement important relationships with other members of the Cambridge life science community. This is in addition to the approximately 500 staff already located at the Company's MedImmune facility at Granta Park.
Related organisations
Related people