Digital evolution for ground-breaking Yellow Card Scheme
Fifty years on from its inception, the UK Yellow Card Scheme is moving into the digital age through a free-access mobile app…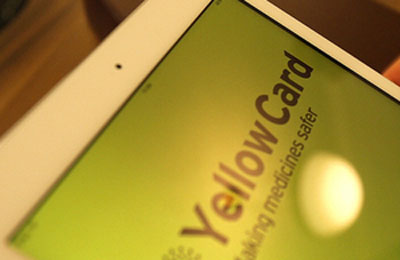 Fifty years on from its inception, the UK Yellow Card Scheme is moving into the digital age through a free-access mobile app that was launched today by Life Sciences Minister, Mr George Freeman MP.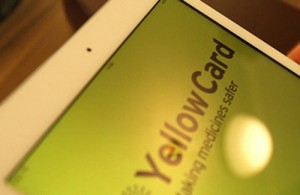 The Yellow Card Scheme was introduced by Sir Derrick Dunlop, Chair of the Committee on the Safety of Drugs, in the wake of the Thalidomide disaster in 1964. The aim was to monitor the safety of UK medicines and act as an early warning system to identify potential side-effects and adverse reactions.
The Medicines and Healthcare products Regulatory Agency (MHRA), which runs the scheme, collates and reviews reports of suspected adverse drug reactions on all licensed and unlicensed medicines and vaccines. It includes those issued on prescription as well as those bought over the counter from a pharmacist or supermarket.
Yellow Cards are used alongside other scientific safety information to help MHRA make changes, if necessary, to the warnings given to people taking a medicine or vaccine, or to the way they are used, to minimise potential risks.
Users can select specific treatments on the Yellow Card Scheme app to receive news and alerts
The new Yellow Card smartphone app supplements an existing one-stop website and is the only app that allows patients, carers and healthcare professionals to report side effects directly to the Yellow Card Scheme to help MHRA ensure they are acceptably safe for patients. Users can select specific medicines or vaccines to track and receive news and alerts about them.
The key features can be used by patients, carers and healthcare professionals and:
the app is free to use for everyone on iOS and Android
is easy to use for reporting side effects directly to the Yellow Card Scheme
enables users to:

create a 'watch list' of medications to receive official news and alerts on
view numbers of Yellow Cards received by MHRA for medicines of interest
submit updates to Yellow Cards already submitted
view previous Yellow Cards submitted through the app
Mick Foy, Group Director for MHRA's Vigilance and Risk Management of medicines division said, "The contribution of patients, careers and healthcare professionals alike in reporting suspected side effects to the Yellow Card Scheme is vital. The evidence helps MHRA detect safety issues and take the necessary action to keep the public safe.
"Moving Yellow Card onto a mobile app is a logical progression in this digital age, allowing us to build on the existing website to improve user engagement."
You can download the app from the iTunes App Store and Google Play.