Eluvia Stent System demonstrates 12-month primary patency of 96.1%
The Eluvia Stent System is an advanced treatment option for patients with narrowing or blockages in the superficial femoral artery or proximal popliteal artery…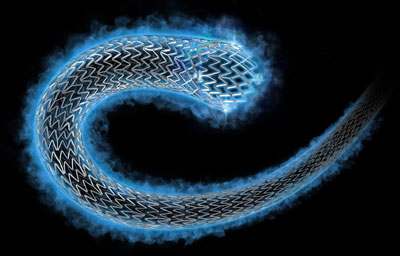 New 12-month clinical trial outcomes assessing the safety and performance of the Boston Scientific Eluvia Drug-Eluting Vascular Stent System reflect a primary patency rate of more than 96%.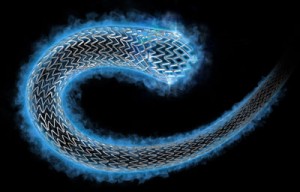 The Eluvia Stent System is an advanced treatment option for patients with narrowing or blockages in the superficial femoral artery (SFA) or proximal popliteal artery (PPA), a result of peripheral artery disease (PAD). These results represent the highest 12-month primary patency reported for an interventional treatment of femoropopliteal artery lesions among comparable trials.
Results from the MAJESTIC trial, which were presented at the Cardiovascular and Interventional Radiological Society of Europe (CIRSE) annual meeting in Lisbon, Portugal, also included a low 12-month target lesion revascularization (TLR) rate of 3.8%, with no observed stent fractures and no amputations.   
"Achieving a 96% primary patency rate at one year, with low major adverse events, is exceptional," said Professor Stefan Müller-Hülsbeck, M.D., PhD, principal investigator and chairman, Vascular Center Diako Flensburg and head of the Department of Diagnostic and Interventional Radiology /Neuroradiology, Academic Hospitals Flensburg, Germany. "In my opinion, the sustained release of paclitaxel enabled by this technology could represent a significant advancement in the treatment of patients with peripheral arterial disease."
The MAJESTIC trial enrolled 57 patients across Europe, Australia and New Zealand, with an average lesion length of 70.8 mm. The trial included a high percentage of complex lesions, with 46% of lesions classified as total occlusions and 65% identified as severely calcified. 
 MAJESTIC trial data to support regulatory submissions for the Eluvia Stent System
Data from the MAJESTIC trial are expected to support global regulatory submissions. In addition, Boston Scientific has received an Investigational Device Exemption (IDE) from the Food and Drug Administration (FDA) to begin a global, pivotal study of the Eluvia Stent System. The study, named the IMPERIAL trial, is designed to support future regulatory submissions and patient enrollment is expected to begin in the coming months.
"The MAJESTIC trial demonstrates our commitment to bringing forward innovative therapies that can make a difference in the lives of patients with PAD who face risks of serious complications including infections and amputations," said Jeff Mirviss, senior vice president and president, Peripheral Interventions, Boston Scientific.