Tecan offers walkaway batch processing for the Spark™ 10M reader
Posted: 13 October 2015 |
Tecan's innovative Spark 10M multimode reader can now be combined with the company's Connect™ microplate stacker to offer semi-automated batch processing of up to 50 assay plates…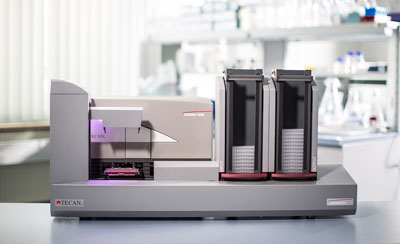 Tecan's innovative Spark 10M multimode reader can now be combined with the company's Connect™ microplate stacker to offer semi-automated batch processing of up to 50 assay plates.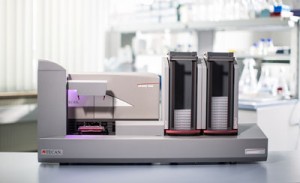 A newly developed software interface allows seamless operation of the Connect stacker through the reader's SparkControl™ software, helping to streamline laboratory workflows for greater productivity.
The Connect is a versatile microplate stacker designed to offer fast, smooth transfer of plates to and from the host instrument. Already popular with users of Tecan's Infinite® series microplate readers and HydroSpeed™ plate washers, this proven and reliable system can now be used in conjunction with the powerful Spark 10M reader. All common microplates conforming to ANSI/SLAS standards – from 6- to 1,536-wells – can be used with Connect, with a choice of 30- or 50-plate cassettes to suit a variety of throughputs. Optional dark covers are also available to protect light sensitive reactions, making the system ideally suited to a wide range of applications in genomics, proteomics and drug discovery.
To find out more about Tecan's Connect stacker and Spark 10M multimode reader, visit www.tecan.com/connect and www.tecan.com/spark.