Quotient Clinical showcases Translational Pharmaceutics and RapidFACT at AAPS 2015
Posted: 13 October 2015 |
Quotient Clinical, the Translational Pharmaceutics® company, will be highlighting the benefits of its unique, integrated approach to formulation development, real-time adaptive manufacturing and clinical testing on booth 1662…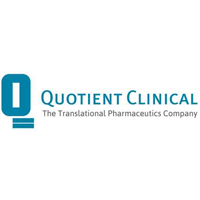 Quotient Clinical, the Translational Pharmaceutics® company, will be highlighting the benefits of its unique, integrated approach to formulation development, real-time adaptive manufacturing and clinical testing on booth 1662 at this year's American Association of Pharmaceutical Scientists (AAPS) Annual Meeting and Exposition.
Held in Orlando, Florida, from the 25th to the 29th of October, this meeting provides attendees with an opportunity to see some of the latest developments in the pharmaceutical sector. Quotient Clinical will be presenting six posters describing projects which have benefited from the reduced costs and shorter development timelines offered by the company's pioneering Translational Pharmaceutics.
Quotient will also host the 4th Annual RapidFACT User Group Meeting in Orlando on the 27th of October. Delegates at this event will have the chance to learn more about how this innovative approach is helping pharmaceutical development teams to accelerate drug production optimization. RapidFACT has already been used in hundreds of early development and life cycle management programs, and a number of customers – including Upsher-Smith Laboratories and Stealth BioTherapeutics – will present case studies illustrating how it has enhanced their development projects. This will be followed by a discussion on emerging applications and a complimentary lunch, providing an informal opportunity to network with leading industry figures.
To register for the RapidFACT User Group Meeting, visit booth 1662 or go to www.quotientclinical.com/usergroup2015.