Sartorius Stedim Biotech launches Flexsafe® 3D Pre-Designed Solutions for storage and shipping applications
Posted: 15 October 2015 |
Today, single-use bags are increasingly used in all process steps of biopharmaceutical manufacturing…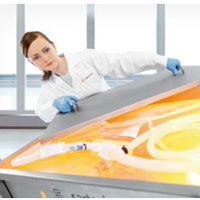 New S80 film features consistent cell growth, robustness and high quality
Flexsafe® 3D shipping solutions meet stringent ASTM D4169 Standard Practice
Pre-designed Solutions (PDS) proven for every process step in biomanufacturing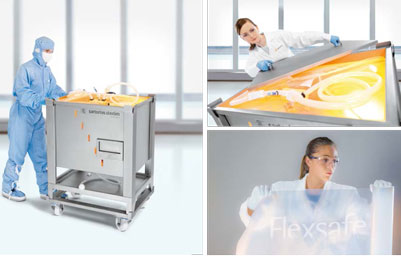 Today, single-use bags are increasingly used in all process steps of biopharmaceutical manufacturing. Their robustness, performance and quality consistency are crucial for ensuring the safety and economy of bioprocesses. This is why Sartorius Stedim Biotech (SSB), an international leading supplier for the biopharmaceutical industry, developed a new polyethylene film and the Flexsafe® family of bags that provide outstanding quality and significantly facilitate implementation of next-generation single-use factories. The complete control of the resins, film, bags and their final assembly, as well as dedicated supply chain and quality management for critical fluid-contact components, provides assurance of supply, reliable performance and a consistent extractable/leachable profile of Flexsafe® across all process steps.
Designed for storage and shipping of biopharmaceutical fluids, SSB's new Flexsafe® 3D Pre-designed Solutions (PDS) meet all the functional and validation requirements of the biopharmaceutical industry. These solutions feature the appropriate components, functionalities and quality controls that meet the specific requirements of each step in upstream and downstream processing and in final filling. Fluid-contact components are available off the shelf and their availability is backed by at least 24-month change notification to provide the best delivery reliability and business continuity.
The three-dimensional single-use bags are available in a range of sizes from 50L to 1,000L and are made of exceptionally robust, yet highly flexible, 400 μm thick co-extruded film structure. The strength of this film reduces the risk of damage to the bag, and its flexibility ensures easy installation and self-deployment of bags in containers, such as SSB's stainless steel or plastic Palletanks®. The outstanding robustness of Flexsafe® bags has been demonstrated by shipping tests conducted in both airplanes and trucks and by applying the most stringent ASTM D4169 Standard Practice for Performance Testing of Shipping Containers and Systems. This standard is designed to reflect worst-case conditions at several temperatures.
"With our Flexsafe® PDS, customers can easily select and safely implement single-use solutions proven for each process step. They will fully benefit from excellent cell growth in upstream, robustness in downstream and a consistent extractable profile in final drug products," stated Jean-Marc Cappia, Vice President of Marketing for Fluid Management Technologies at SSB.
For further information, please visit www.sartorius-stedim.com.
Related topics
Related organisations