Lenvatinib improves progression-free survival in renal cell carcinoma study
Posted: 16 October 2015 |
Phase II results show lenvatinib, when used in combination with everolimus, demonstrates significantly improved PFS versus everolimus alone in people with metastatic renal cell carcinoma…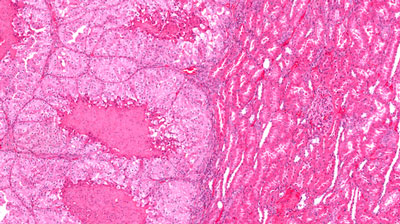 Phase II results show Eisai's lenvatinib, when used in combination with everolimus, demonstrates significantly improved progression-free survival (PFS) versus everolimus alone in people with metastatic renal cell carcinoma (mRCC) following prior VEGF-targeted therapy.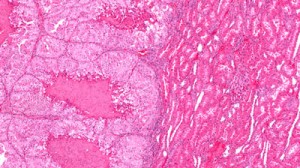 Further results from the study show significant improvements in objective response rates (ORR) for the lenvatinib plus everolimus combination compared to everolimus alone and for lenvatinib compared to everolimus alone.
Renal cell carcinoma is the most common form of kidney cancer. The standard treatment for metastatic or advanced renal cell carcinoma is molecular targeted drug therapy, which is designed to interfere with the specific molecules necessary for tumour growth and progression. Despite this, it remains a disease for which patients have very few treatment options.
"Metastatic renal cell carcinoma remains a difficult-to-treat cancer and people with this tumour type are in desperate need for new treatment options. The publication of these important Phase II results in The Lancet Oncology indicates lenvatinib's potential in treating patients with metastatic renal cell carcinoma," comments Dr James Larkin, Consultant Medical Oncologist at The Royal Marsden, London.
Eisai "look forward" to further developing lenvatinib for mRCC
One of the study's secondary endpoints shows that, in an updated analysis, lenvatinib plus everolimus extends overall survival, compared to everolimus alone. For lenvatinib in combination with everolimus, the most common treatment-emergent adverse events reported were diarrhoea, fatigue and decreased appetite.  
"Eisai are proud to have these data presented. We look forward to further developing lenvatinib in this indication to help patients with metastatic renal cell cancer that has relapsed after a VEGF-targeted therapy," comments Dr Alton Kremer, Deputy President, Oncology PCU and Chief Medical Officer, Global Oncology Business Unit, Eisai.
Related topics
Related organisations