Boehringer Ingelheim announces data for Spiolto Respimat and biosimilar candidate
Posted: 28 October 2015 |
Boehringer Ingelheim today announced new data from post-hoc analyses of studies of Spiolto Respimat and a Phase I trial of its adalimumab biosimilar candidate…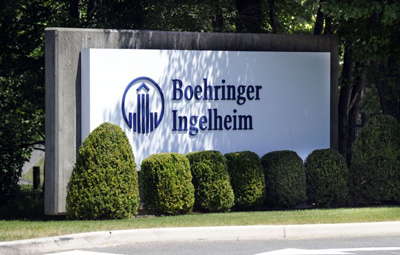 Boehringer Ingelheim today announced new data from post-hoc analyses of studies of Spiolto Respimat and a Phase I trial of its adalimumab biosimilar candidate.
New post-hoc analyses from the TONADO 1&2 and OTEMTO 1&2 studies of Spiolto Respimat were presented at the American College of CHEST Physicians Annual Meeting in Montreal.
One analysis showed significant lung function improvement, as measured by FEV1 AUC0–3, with once daily Spiolto Respimat in COPD patients across a range of age groups.  In addition, a second analysis indicated that Spiolto Respimat reduces the frequency of night-time rescue medication use, as measured by puffs needed per night and these reductions were sustained for up to 52 weeks. In a third analysis the improvement of dyspnoea (or shortness of breath), as measured by the Transition Dyspnea Index (TDI), was shown in COPD patients, compared to tiotropium, olodaterol and placebo.
From early in the course of COPD, decreasing lung function makes it more and more difficult for patients to breathe. When many patients are first diagnosed their condition is already declining rapidly. To cope with feeling breathless, patients reduce their activity and change their lifestyles. Once symptoms start to prevent normal daily activities there is a downward spiral of reduced physical activity leading to worsening symptoms, further dyspnoea and even further sedentary behaviour. This in turn results in a large physical and emotional impact on people living with the disease.
"The post-hoc data presented at the CHEST meeting demonstrate that Spiolto Respimat may provide improvement across several important clinical outcomes. These results further support the evidence of the benefit of using Spiolto Respimat in patients requiring COPD maintenance treatment. Providing optimal treatment right from the start of maintenance therapy can give patients the best chance of managing their symptoms, keeping active and limiting their need for rescue medication ", said Dr William Mezzanotte, Vice President and Head of Respiratory Medicine at Boehringer Ingelheim.
BI695501 demonstrates pharmacokinetic bioequivalence to Humira
Boehringer Ingelheim today also reported that its biosimilar candidate (BI695501) for adalimumab (AbbVie's Humira) demonstrated pharmacokinetic bioequivalence with both the US-licensed and EU-approved reference products in a Phase I trial in healthy subjects.
"This is an important step towards our ultimate goal of providing new biosimilar therapeutic options to health care providers and patients," said Sandeep Athalye, MD, Vice President and Head, Clinical Development and Medical Affairs Biosimilars, Boehringer Ingelheim. "Boehringer Ingelheim is a pioneer in biotechnology with a long-standing history of more than 35 years; as a logical next step biosimilars are an important new area of focus for us."
The Phase I trial was a randomised, double-blind, single dose, parallel-arm study in healthy individuals. 327 healthy males between the ages of 18 and 55 participated in the trial. Each participant was randomized to receive one subcutaneous dose of either BI695501, US-licensed or EU-approved adalimumab.
The study found that safety, tolerability and immunogenicity were comparable among the treatment groups.