Shire to acquire Dyax; expands HAE pipeline
Posted: 3 November 2015 |
Shire has announced that it is to acquire Dyax, a company focused on the development of plasma kallikrein inhibitors for the treatment of hereditary angioedema, for approximately $5.9 billion…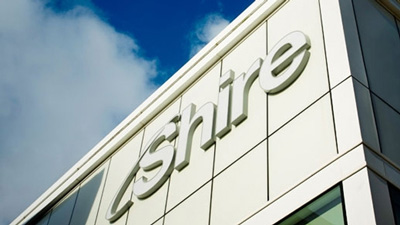 Dyax is a biotechnology company primarily focused on the development of plasma kallikrein (pKal) inhibitors for the treatment of hereditary angioedema (HAE), a debilitating and sometimes life-threatening rare genetic disease. Dyax has already successfully developed and commercialised Kalbitor, which is approved for HAE acute treatment in patients 12 years of age and older, and represented an early innovation in HAE treatment.
Shire's Chief Executive Officer Flemming Ornskov, M.D., commented:"This highly complementary transaction aligns with and accelerates our strategy to build a global leading biotechnology company focused on rare diseases and specialty conditions. It adds to our portfolio of best-in-class therapies addressing unmet needs in our core therapeutic areas, expanding and extending our leadership position in HAE."
Dyax's most advanced clinical programme is DX-2930, a Phase 3-ready, fully humanised monoclonal antibody targeting pKal with proof-of-concept Phase 1B efficacy data. This data demonstrate a > 90% reduction in HAE attacks compared to placebo in the 300mg/400mg arms in patients with > 2 attacks in the 3 months prior to study entry.
DX-2930 has received Fast Track, Breakthrough Therapy, and Orphan Drug designations by the FDA and has also received Orphan Drug status in the EU. It is expected to enter Phase 3 clinical trials by the end of this year. If approved for the prevention of Type 1 and Type 2 HAE, DX-2930 could generate estimated annual global sales of up to $2.0 billion.
Dyax's pipeline is a "strategic fit" with Shire's HAE domain expertise
Shire's Chief Executive Officer Flemming Ornskov, M.D., added: "DX-2930 is a strategic fit within our HAE domain expertise, and we are well-positioned to advance the development, registration, and commercialization of DX-2930 for the benefit of HAE patients. This transaction also offers other potential upside opportunities, including Dyax's early-stage pipeline. Following the close of this transaction, we look forward to welcoming Dyax employees, who will bring to Shire substantial clinical and commercial expertise in HAE. Dyax is to be commended for the world class organization they have built focused on HAE."
Dyax President and Chief Executive Officer Gustav A. Christensen said: "We believe this transaction will deliver substantial value to our shareholders and highlights our shared commitment to bringing innovative medicines to patients who suffer from the devastating effects of HAE."
Related organisations
Related diseases & conditions