Sartorius grows by double digits in sales and profit in 2015 – positive outlook for 2016 – targets for 2020 updated
Sartorius grew very dynamically again in 2015 according to its preliminary figures and further increased its profitability…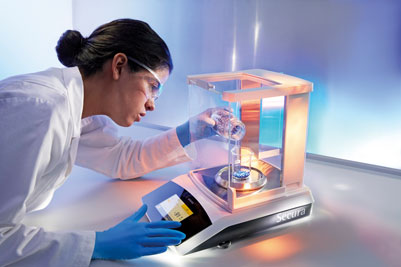 Financial targets achieved or exceeded: Group sales revenue up 16.0%; underlying EBITDA up 40.9%
Number of staff increased by around 10% to around 6,200
Acquisitions successfully integrated; investment program in progress
Company projects significant gains in sales revenue and profitability for 2016 as well
Medium-term forecast updated: Revenue target for 2020 confirmed; earnings target raised
Sartorius, a leading international pharmaceutical and laboratory equipment provider, grew very dynamically again in 2015 according to its preliminary figures and further increased its profitability. The company achieved or exceeded its financial targets raised during the reporting year. For the current fiscal year as well, management expects to record significant growth: The forecast for 2020 developed in 2011 was updated for the first time.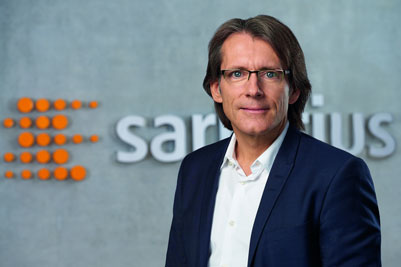 "In 2015, our growth driver was the Bioprocess Solutions Division yet again. As a supplier for the biopharmaceutical industry, we operate in an exceptionally dynamic market where we also gained further share," commented CEO Dr. Joachim Kreuzburg. "Our Lab Products & Services Division performed well in the past year, too. For 2016, our outlook is positive and over the medium-term, we also continue to see ourselves on track to grow significantly and profitably."
Significant Gain in Sales Revenue
According to preliminary figures, Sartorius increased its sales revenue in constant currencies by 16.0% (reported: 25.1%) from 891.2 million euros in 2014 to 1,114.8 million euros in 2015. A gain of approximately 15% had been expected. Order intake climbed during the same period by 17.1% (reported: 26.2%) to 1,172.7 million euros.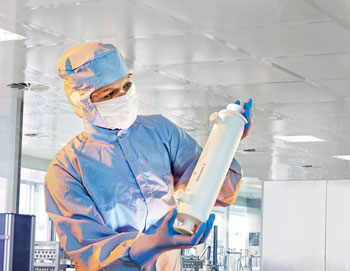 In view of the divisions, the Bioprocess Solutions Division, which focuses on single-use products for the manufacture of biopharmaceuticals, again proved to be the growth engine. Boosted by vibrant market dynamics, sales revenue surged 20.9% (reported: 31.4%) to 809.2 million euros. All product segments contributed to the division's strong growth; demand for single-use product solutions was especially high. Sartorius successfully integrated BioOutsource Ltd. and Cellca GmbH that were acquired in the reporting year. These two companies also grew significantly and contributed nearly two percentage points in constant currencies to the division's sales expansion. Order intake for the division rose even more sharply than its sales revenue, and was up 22.8% (reported: 33.3%) to 869.9 million euros.
For the Lab Products & Services Division, which supplies laboratory instruments and consumables for labs in research and quality assurance, sales revenue increased 5.0% (reported: 10.9%), attaining 305.5 million euros at year-end. Strong demand was reported especially for consumables such as lab filters and microbiological tests. Order intake for the division rose 3.7% (reported: 9.5%) to 302.8 million euros.
All regions contributed significant gains in sales revenue to the dynamic development of the Group. Business in the Americas increased at the highest rates, with an uptick in sales of 21.1%. Sales revenue with customers in the EMEA region2 climbed 15.7% and in the Asia | Pacific region, 9.8%. (All regional figures in constant currencies). In addition, the company created new jobs in all regions to a significant extent. At year-end, 6,185 people were working for Sartorius across the globe, around 10% more than in 2014.
Overproportionate Increase in Profitability
The Sartorius Group increased its underlying EBITDA1 overproportionately relative to sales revenue, by 40.9% to 263.2 million euros. One major reason for this was economies of scale; the favorable exchange rates additionally had a positive effect. The Group's corresponding margin was 23.6%, up from 21.0% a year ago and thus slightly above the forecasted figure of 23.5% (incl. currency effects).
Earnings contributed by the Bioprocess Solutions Division climbed 47.3% to 214.5 million euros; its respective margin rose from 23.7% to 26.5% in the reporting year. The Lab Products & Sales Division also continued to expand its profitability, reporting an underlying EBITDA of 48.8 million euros (2014: 41.2 million euros). This equates to a margin of 16.0%, up from 15.0% in the prior year.
Group EBIT, including extraordinary items of -12.6 million euros (2014: -8.3 million euros), depreciation and amortization, was 192.3 million euros, reflecting a gain of 52.5%. Its corresponding earnings margin rose from 14.2% a year ago to 17.3%. Relevant net profit3 for the Group jumped from 66.1 million euros to 107.4 million euros. Consolidated earnings per ordinary share rose to 6.29 euros (2014: 3.87 euros), and per preference share, 6.31 euros (2014: 3.89 euros).
Even though a factoring program ended in the reporting year, net cash flow from operating activities was 125.6 million euros, following on 129.7 million euros a year earlier. The ratio of net debt to underlying EBITDA decreased to 1.3 (2014: 1.7). The company's investment volume for fiscal 2015 was around 10% of sales revenue and was used as part of its multi-year infrastructure program in progress, as scheduled, for the expansion of production capacities and IT systems, as well as for R&D projects, among others.
Positive Outlook for Fiscal 2016
Sartorius expects significant, profitable growth for the current year as well. Therefore, the company forecasts that sales will grow approx. 10% to 14% in constant currencies. The company's underlying EBITDA margin is projected to gain around one percentage point in constant currencies compared with the prior-year figure of 23.6%. Sartorius further plans on maintaining its investments at approximately the previous year's level of around 10% of sales.
In view of the two divisions, management anticipates that sales for Bioprocess Solutions will grow approx. 13% to 17% and that this division's underlying EBITDA margin will rise by around one percentage point.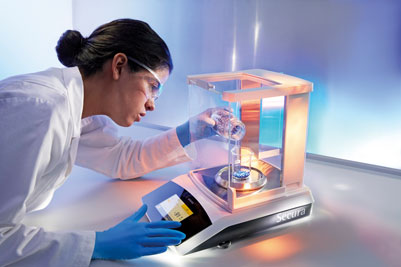 For the Lab Products & Services Division that partially depends on general economic trends, Sartorius projects that assuming an overall stable economic environment, sales will grow approx. 3% to 7% and the division's underlying EBITDA margin will likewise increase by around one percentage point. (All division figures in constant currencies)
Financial Targets for 2020
Sartorius reviewed and updated its targets set in 2011 for the year 2020. In view of its success in implementing its strategy so far, management confirms its sales target of around 2 billion euros in constant currencies for the full year of 2020. Sartorius raised its profitability target due to higher economies of scale, an enhanced product portfolio and to positive currency effects. On the basis of constant currencies, its underlying EBITDA margin is now expected to reach about 26% to 27% in 2020 instead of 23% formerly projected. This is assuming that the profitability of any future acquisitions would be at a level comparable to that of existing business.
1 Sartorius uses underlying EBITDA (earnings before interest, taxes, depreciation and amortization and adjusted for extraordinary items) as the key profitability indicator.
2 EMEA = Europe | Middle East | Africa
3 After non-controlling interest, adjusted for extraordinary items and non-cash amortization, as well as based on the normalized financial result and corresponding tax effects.
This press release contains statements about the future development of the Sartorius Group. The content of these statements cannot be guaranteed as they are based on assumptions and estimates that harbor certain risks and uncertainties. This is a translation of the original German-language press release. Sartorius shall not assume any liability for the correctness of this translation. The original German press release is the legally binding version. Furthermore, Sartorius reserves the right not to be responsible for the topicality, correctness, completeness or quality of the information provided. Liability claims regarding damage caused by the use of any information provided, including any kind of information which is incomplete or incorrect, will therefore be rejected. The numbers mentioned above are still subject to final review by the auditors. The final figures will be announced at the annual press conference on February 26, 2016.
Preliminary Figures for 2015
www.sartorius.com/fileadmin/media/global/company/pr_20160201_prel_figures_sag-en.pdf
Related topics
Related organisations