Aridhia's Dr David Sibbald honoured with Outstanding Contribution Award
Dr David Sibbald OBE, co-founder and Chairman of Aridhia, was awarded the 'Outstanding Contribution Award' at the Scottish Enterprise Life Sciences Awards…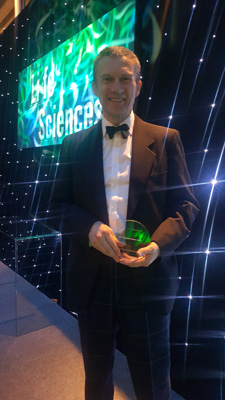 Dr David Sibbald OBE, co-founder and Chairman of Aridhia, has been awarded an 'Outstanding Contribution Award' at the Scottish Enterprise Life Sciences Awards.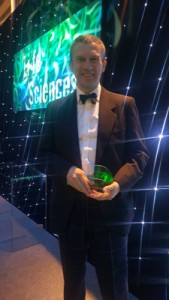 Sibbald accepted the accolade, created for him, in recognition of his contribution to Scotland's life sciences industry.
Speaking of his award, David said: "To be recognised in front of such an esteemed audience is an exceptional honour. Our work is only just beginning and this award is testament to the vision and energy of everyone who has been involved in helping us move towards a greater understanding of the role data has to play in advancing precision medicine.
"Collaboration is at the heart of science and I truly feel that this award is not for me, but for the extraordinary life sciences community we have here in Scotland who are so willing to work together for the greater good. It's quite unique and incredibly powerful."
Sibbald co-founded informatics company Aridhia
Sibbald co-founded Aridhia in 2007, aiming to revolutionise the way data and analytics is used to manage chronic disease and advance precision medicine. Since then, Aridhia has worked with healthcare, academic and life sciences organisations across the world to transform healthcare.
Aridhia has received funding from major initiatives including Innovate UK's Stratified Medicines Innovation Platform, Horizon 2020 and the Innovative Medicines Initiative along the way.
The company launched its innovative data science platform, AnalytiXagility, in early 2014 and has seen it go from strength to strength. It is the informatics platform underpinning the Stratified Medicine Scotland Innovation Centre, and the newly announced Precision Medicine Catapult. AnalytiXagility is also supporting a number of major European projects, including EPAD, a £64m collaboration of 36 organisations working towards the prevention of Alzheimer's dementia, and ADVOCATE, a €6 million oral healthcare innovation project.
Speaking of Sibbald's award, Professor Anna Dominiczak, Regius Professor of Medicine at the University of Glasgow, said: "From the successes of Aridhia, to his contributions in establishing an industry-led MSc course in Stratified Medicine at the University of Glasgow, and his philanthropic work, David is a visible and much admired advocate for the Scottish life sciences community. He is adept at creating relationships, bringing people together, delivering innovation and creating wealth and is a most fitting recipient of this award."