AbbVie presents data for ABT-493 and ABT-530 regimen in HCV
With eight weeks of treatment, 97-98 percent of GT1-3 HCV infected patients without cirrhosis treated with ABT-493 and ABT-530 achieved sustained SVR12…
With eight weeks of treatment, 97-98 percent of genotype 1-3 (GT1-3) chronic hepatitis C virus (HCV) infected patients without cirrhosis treated with AbbVie's pan-genotypic regimen of ABT-493 and ABT-530 achieved sustained virologic response at 12 weeks post-treatment (SVR12).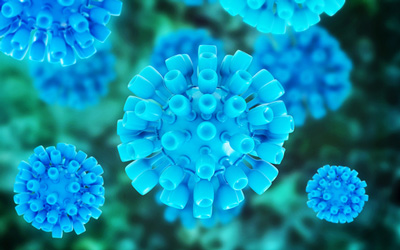 Results for GT1, GT2 and treatment-naïve GT3 patients were based on an Intent-to-Treat (ITT) analysis. Additionally, 100 percent of genotype 4-6 (GT4-6) chronic HCV infected patients without cirrhosis achieved SVR12 with 12 weeks of treatment. These new data come from the Phase II SURVEYOR-1 and SURVEYOR-2 studies.
Commenting on the data, Rob Scott, M.D., vice president, development and chief medical officer, AbbVie, said: "These results move us closer to our ultimate goal of providing a treatment option for as many hepatitis C patients as possible. We will continue to examine our investigational, pan-genotypic regimen through our dedicated clinical trial program, including an eight-week duration across all genotypes."
New data show the potential of ABT-493 and ABT-530
In separate data from the SURVEYOR-2 study, 100 percent of GT3 chronic HCV infected patients with compensated cirrhosis (Child-Pugh A) new to therapy achieved SVR12 with 12 weeks of treatment both with and without RBV. No patients discontinued treatment due to adverse events.
"The recent evolution in hepatitis C treatment has resulted in high cure rates for many patients with specific genotypes, but there remain distinct areas of unmet need," said Paul Kwo, M.D., professor of medicine at the Indiana University School of Medicine. "These new data show us the potential of ABT-493 and ABT-530 in genotype 3 patients new to therapy even with the added complication of compensated cirrhosis."
In a pooled analysis of 531 patients across both SURVEYOR studies, of five treatment regimens of ABT-493 and ABT-530 evaluated, the most commonly reported adverse events were fatigue, headache, nausea, and diarrhoea. Three patients across all study arms evaluated to date, two of whom received RBV, discontinued study drugs early due to adverse events.
Related topics
Related organisations
Related diseases & conditions