First patient enrolled in IPF biomarker study of Ofev
INMARK is a study investigating the effect of Ofev (nintedanib) on changes in specific blood biomarkers in patients with idiopathic pulmonary fibrosis…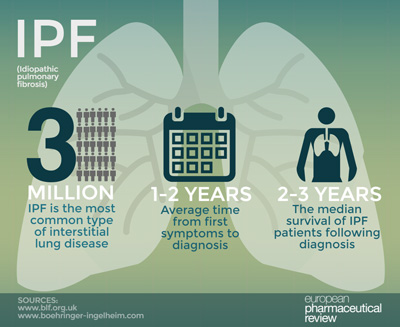 The first patient has been enrolled in INMARK – a study investigating the effect of Boehringer Ingelhiem's Ofev (nintedanib) on changes in specific blood biomarkers in patients with idiopathic pulmonary fibrosis (IPF).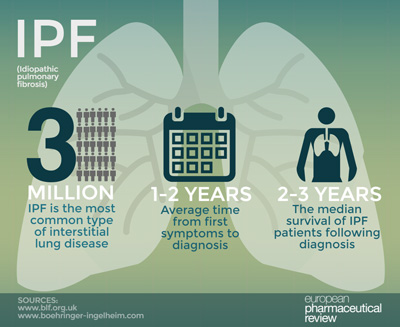 These changes in biomarkers indicate the excessive scarring in the lungs.
INMARK will measure changes in the various extracellular matrix (ECM) turnover biomarkers already shown to predict disease progression in IPF patients. ECM turnover is part of healthy tissue maintenance. However, uncontrolled or excessive turnover is a key driver for the structural changes seen in IPF lungs, leading to progressive scarring and loss of lung function.
IPF is a debilitating and fatal lung disease with a high mortality which causes permanent scarring of the lung tissue and loss of lung function over time. Recent advancements have been made in the management of the condition with the availability of specific antifibrotic drugs such as Ofev, which has been shown to slow disease progression by approximately 50% across three key studies. However, despite these advancements, physicians are still uncertain when to start treatment in individual patients. This is due to the unpredictability and differences in disease progression across patients with IPF and the lack of biomarkers to inform how the disease will progress in individual patients and who may respond best to treatment.
An urgent challenge
Early diagnosis of the condition is critical to helping patients manage their condition. The median survival of IPF patients following diagnosis is just 2 -3 years, underlining the importance of early and accurate diagnosis and the vital role of treatments to help slow disease progression.
Commenting on the importance of INMARK, Dr Toby Maher, Consultant Respiratory Physician at the Royal Brompton Hospital in London, said: "The initiation of this new study marks a major milestone. The trial is of great scientific value in that it will provide better understanding of IPF and the value of nintedanib treatment in individuals with preserved lung function. Importantly this is the first time we are investigating the effect of any antifibrotic treatment on changes in specific biomarkers in IPF. Being able to identify biomarkers that will predict how the disease will progress in a specific patient will allow physicians to start their patients on appropriate treatment at the earliest opportunity to help slow disease progression. It remains one of the most urgent challenges for effective management for IPF patients."
Related topics
Related organisations
Related diseases & conditions