Celltrion to develop assay for evidence-based decision-making in anti-TNF treatment
Celltrion is to develop laboratory tests that will enable physicians to identify when patients on an anti-TNF drug require a change of dose…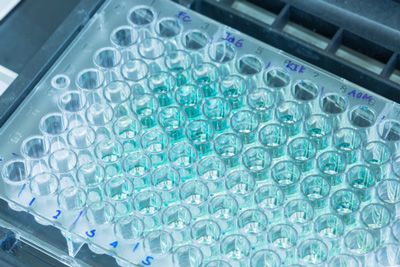 Celltrion plans to develop laboratory tests that will determine both drug and anti-drug antibody (ADA) levels in the blood, enabling physicians to identify when patients on an anti-tumour necrosis factor (anti-TNF) drug require a change of dose or a switch to a different treatment in the class.
Mr. Man Hoon Kim, President, Celltrion Healthcare, explained more: "Biologics and biosimilars tested with advanced analytical methods to assess drug and ADA levels could be used for developing tailored treatments. Celltrion is fully committed to support this type of research to develop affordable laboratory tests, or kits, for routine monitoring that allows personalized infliximab treatment according to the disease status of individual patients." 
A group of researchers released an observational study in rheumatoid arthritis (RA), the results of which were presented at the recent European League Against Rheumatism annual congress (EULAR 2016). The study assessed the correlation between ADA levels in patients with RA and circulating blood levels of an anti-TNF therapy as a potential predictor of a patient's response to treatment. The results showed that high levels of ADAs at the beginning of treatment were associated with a poor response at a later stage.
Discussing the results, study investigator Professor Chamaida Plasencia of La Paz University Hospital-Idipaz in Madrid, Spain, said: "Therapeutic drug monitoring is important in patients with chronic inflammatory diseases using biological therapies such as TNF inhibitors. The serum trough levels of TNF inhibitors are closely correlated with clinical efficacy. Several factors are associated with a faster drug clearance including anti-drug antibody formation. Differences in the structure of TNF inhibitors are crucial in terms of drug immunogenicity. Recent evidence demonstrates that drug and/or anti-drug antibody level monitoring at early stages of therapy is correlated with clinical outcomes. Therapeutic drug monitoring could help physicians make evidence-based decisions about treatment, thus avoiding the undesirable consequences of immunogenicity such as treatment failure."
Evidence-based healthcare
Celltrion's ongoing commitment to evidence-based healthcare was also demonstrated by the company's decision to undertake extension studies of its registration trials up to 102-week: PLANETRA and PLANETAS. The extension studies showed that Remsima, the first and only biosimilar monoclonal antibody (mAb) approved in the US, was well-tolerated and effective over two years, and that the efficacy, safety and immunogenicity of Remsima and the reference medicinal product (RMP) were comparable both in patients who remained on Remsima and in those who were switched from the RMP.
Mr. Kim added: "Remsima was diversely tested up to 102-weeks for immunogenicity; 3mg/kg and 5mg/kg, RA patients and AS patients, combination therapy and monotherapy, Remicade oriented ADA and Remsima oriented ADA, switch group and maintenance group. All data consistently support the comparability claim and, once published, would provide additional scientific grounds for research similar to Professor Chamaida Plasencia's."