Quotient Bioresearch Celebrates Official Opening of New State-of-the-Art Radiochemistry Facility
Quotient Bioresearch, has officially opened its new, state-of-the-art radiochemistry facility in Cardiff…
Quotient Bioresearch, has officially opened its new, state-of-the-art radiochemistry facility in Cardiff...
Quotient Bioresearch, a leading provider of early stage and specialist drug development services to pharmaceutical, biotechnology and medical device clients worldwide, has officially opened its new, state-of-the-art radiochemistry facility in Cardiff, UK, with a ceremony including a VIP opening by the First Minister of Wales, Carwyn Jones.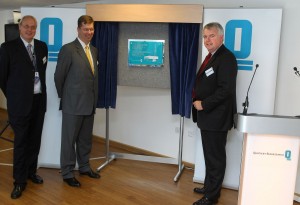 The new facility, which has been named "The Old Glassworks", represents a £15 Million investment for Quotient, which was assisted by International Business Wales, the inward investment arm of the Welsh Assembly Government. The Old Glassworks produces radiolabelled compounds, enabling Quotient to support the product development needs of the pharmaceutical, biotechnology and agrochemicals industries worldwide. From the new facility, Quotient is able to manufacture custom radiolabelled drugs for use in both pre-clinical and clinical settings, serving over 250 clients worldwide.
The Old Glassworks houses the largest and most experienced team of radiosynthesis chemists in the world and has already created approximately 25 new jobs, bringing the total number of Quotient employees to over 600. The new facility follows the company's acquisition of Amersham Radiolabeling Services from GE Healthcare in June 2009 and has enabled seventy-five highly-skilled chemists and support staff to be transferred.
The official ceremony included a VIP opening and unveiling of a plaque by the First Minister of Wales, as well as a speech by Stephen Lewinton, Managing Director for Chemistry and Metabolism at Quotient Bioresearch. Presentations were given by company executives and scientists, discussing the challenges involved in building the new facility, and recommendations for effective experimental design. Guests were also given tours of the facility to view Quotient's world-class technology.
Paul Cowan, Chairman & Chief Executive Officer, Quotient Bioresearch, said: "We are delighted to announce the official opening of Quotient's new state-of-the-art facility in Cardiff, Wales. The new facility, which is equipped with world-leading technology, will enable Quotient to offer a bespoke service for the custom synthesis of carbon-14 and tritium labelled compounds."
Carwyn Jones, First Minister of Wales, said "The Cardiff facility is a centre of excellence for the manufacture of radiolabelled compounds to support Quotient's pharmaceutical and biotechnology client's ongoing research and development programmes. The use of radiolabelled compounds is critical to evaluating the safety of new medicines being developed to benefit people with a wide range of illnesses, in both the UK and the rest of the world."
To learn more about the new facility or Quotient, please call +44 (0)2920 474 900, email [email protected] or visit www.quotientbioresearch.com