Airside Pharma Transport at Brussels Airport is European first
Brussels Airport presented a European first at the TIACA Air Cargo Forum in Paris: the active version of the "Airside Pharma Transporter"…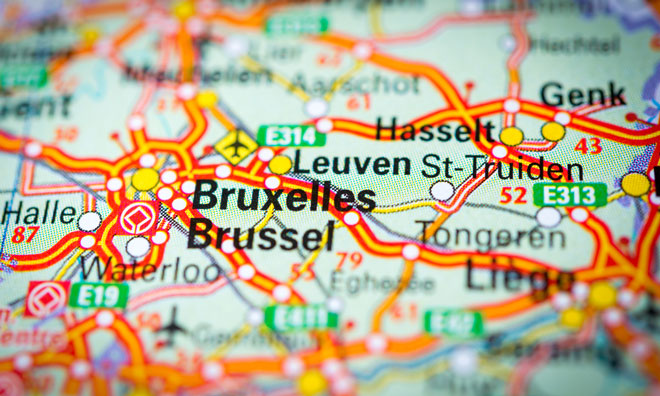 Brussels Airport presented a European first at the TIACA Air Cargo Forum in Paris: the active version of the "Airside Pharma Transporter". This trailer is pre-conditioned at the correct temperature in order to hold pharmaceutical shipments within the correct temperature limits during transportation between warehouses and aircraft at an affordable cost. This is crucial because an incorrect temperature can cause rejection of medicines. Until today the period on the tarmac was considered the most hazardous link in the transportation process.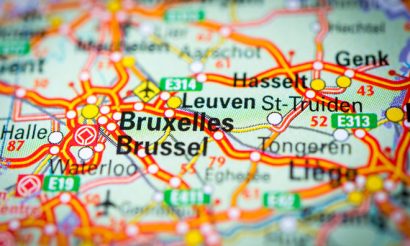 "The pharmaceutical sector is of great economic importance to our country. Brussels Airport Company has become the preferred gateway in Europe for the cold chain industry and medicines in particular," says Steven Polmans, head of cargo at Brussels Airport.
"Within the Flanders Pharma Hub Project, the local freight partners are brought together by Brussels Airport to realize innovations for an improved treatment of pharmaceutical products," explains Nathan De Valck, cargo & product development manager at Brussels Airport.
This cluster includes handling agents, airlines, forwarding agents, truckers, knowledge centres and an engineering and production company.

European scoop
The active version of the Airside Pharma Transporter is a first, because it ensures that the inside temperature is always and automatically pre-conditioned at the correct temperature. This eliminates the need for the handling agents to condition the transport vehicle and results in quicker cycle times between different transports.
Steven Polmans explains, "despite the higher investment cost, the active version of the Airside Pharma Transporter allows us to offer considerably more availability of conditioned transport options at BRU. Given the high demand on peak hours, we can now add an extra available slot for airlines or forwarders to book. This is a clear economic benefit compared to the passive version that was already in use".
The Airside Pharma Transporter uses a new type of cooling technology and relies on solar power technology to operate autonomously for several days.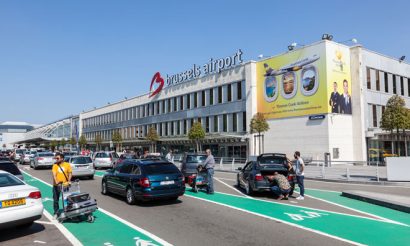 This allows for energy neutral temperature controlled transport of the temperature-sensitive pharmaceutical shipments at Brussels Airport. This project allows the weakest link in the transport process of drugs to be eliminated, because the transport regulations for pharmaceuticals and the cold chain are generally very strict.
A too high fluctuation in storage temperature can ensure that the drugs should not be used, with large losses as a consequence. The Airside Pharma Transport Project provides an answer.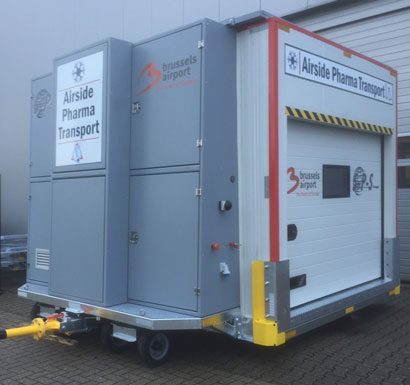 Continuous co-operation with pharmaceutical manufacturers
Steven Polmans: "Brussels Airport commits to an ongoing dialogue with the shippers of pharmaceutical products in order to know their needs and specific expectations for air transport. The Airside Transport Pharma Project is an excellent example of an innovation aimed at solving a priority issue indicated by the shippers. Pharmaceutical manufacturers were actively involved in defining the performance requirements for the engineering and the test protocol for the temperature mapping of the airside transport solution."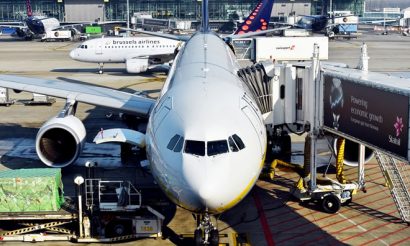 Commercialisation
Nathan De Valck explains, "several forwarders and airlines are setting up new commercial services for controlled temperature transport, using the Airside Pharma Transporters. Initially Brussels Airport will rent out 4 vehicles via an innovative booking tool based in the BRUcargo cloud. In this respect the airport operator is facilitating its local stakeholders to develop new commercial services. As a result the entire BRUcargo community will benefit, the handling of pharmaceutical products will improve and Brussels Airport will confirm its position as the preferred European pharma gateway."
Alban François, Vice President Global Cargo at Brussels Airlines Cargo: "With the Airside Pharma Transporter, Brussels Airlines Cargo will be able to guarantee 100% temperature control of all pharma shipments during the ramp transportation at BRU, and this independently of the outside temperature. Having this solution on our hub is a major achievement for our customers."