Medicine delivery by drone – implications for safety and quality
Drones that transport medicines to emergency situations, urban environments or geographically-challenging locations are increasingly being utilised to improve delivery, however, there are few studies on their impact on drug stability. Here, Paul Royall and Patrick Courtney explore the implications of drone delivery on the safety and quality of medicines.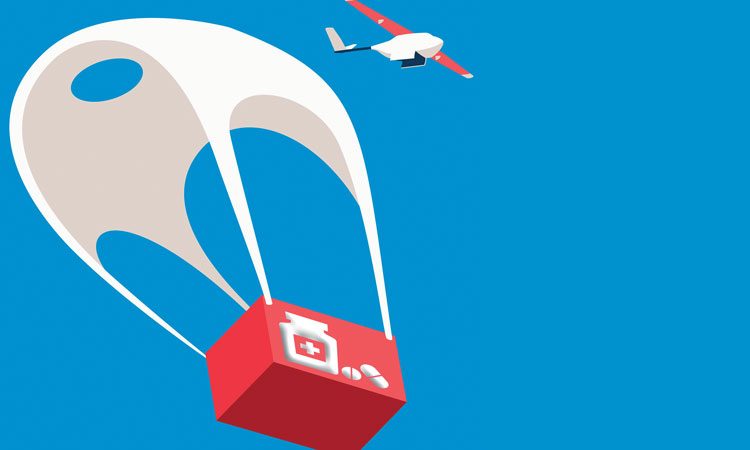 Credit: IKON IMAGES / JOSH MCKIBLE / SCIENCE PHOTO LIBRARY
To date, the quality of medicines ensured by adherence to a set of guidelines described variously in the British pharmacopoeia and other regulatory documents worldwide.1 Coherence is managed internationally by structures such as the International Committee on Harmonisation (ICH) and has expanded to cover packaging, shipping, security of the supply chain, etc.2 At the same time, there has been considerable interest in the use of robotic systems in pharmacy supply chain logistics, from raw materials and manufacture to pharmacies and patients.3 This technology is advancing fast in terms of performance, range and cost effectiveness compared to traditional logistical means (plane, truck, motorcycle, etc).
There is also a huge demand for cost effective and secure transportation of many other medicinal materials; for example, blood for transfusion, organs for transplant and clinical samples for testing and pathology.4,5 As many hospital services have been centralised or facilities have expanded into new regions, the logistical requirements and transportation of these materials is an ever-growing challenge.
Issue
Related topics
Antibodies, Biopharmaceuticals, Drug Safety, Drug Supply Chain, Environmental Monitoring, Packaging, Personalised medicine, QA/QC, Quality by Design (QbD), Regulation & Legislation, Robotics, Supply Chain, Technology, Vaccines
Related organisations