Under the microscope: Aric Meares, CEO, Azbil BioVigilant
Want to avoid a devastating drug shortage? Aric Meares, CEO of Azbil BioVigilant, says rapid microbial detection technology is a critical part of the solution…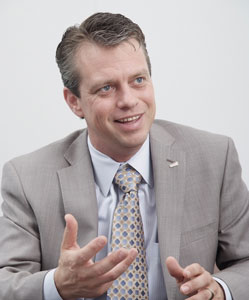 Aric Meares, CEO, Azbil BioVigilant
Want to avoid a devastating drug shortage? Aric Meares, CEO of Azbil BioVigilant, says rapid microbial detection technology is a critical part of the solution.
With more than 20 years of experience in technical roles with technologies ranging from precision measurement equipment to advanced optical systems, Aric Meares joined BioVigilant in 2007 as its Vice President of Operations, and in 2011 became the President and CEO. Founded in 2002 in Tucson, Arizona, originally inventing its instantaneous microbial detection tech nology to detect weaponised bio-agents for the US military and Homeland Security, BioVigilant commercialised the technology for the pharmaceutical market in 2007. Today, the systems detect, instantaneously and in real time, particulate count, size and biological status.
Over the past year, critical drug shortages used to treat a host of life-threatening illnesses have been making headlines. Microbial contamination has been cited as a major contributor to the shortage, yet the prevailing practices to ensure the safety of drugs have been slow to change. "In most cases, quality assurance practices safeguarding the drug making environment continue to rely on periodic air sampling and a culturing method from a prior century," Meares says. "It takes great vision and courage to drive such a fundamental change in your manufacturing processes, especially in a regulated environment. The driving force for such a change is often driven by quality, but they face natural resistance from their financial organisations who expect a short return on investment and their manufacturing teams who are focused on maintaining the continuity of the processes that allow them to meet quarterly production goals."
In the long run, Meares believes the impact of adopting rapid methods would enable the industry to move to real-time release and improve the final production output. "As with any disruptive technology advancement, it drives paradigm shifts that force users to re-think some of the fundamental assumptions on which the current practices are based," Meares notes. "For instance, the setting of alert and action limits is an area requiring thought leadership from industry. There is a lot of evidence that a significant number of bacteria are present in an environment that cannot be grown on a culture plate. So if you implement a rapid method that is better at detecting these 'viable but not culturable' bacteria, you need to rethink – then justify – your limits, both inside your company and outwardly to regulators."
While FDA regulators seem to be open to changing limits, pharmaceutical companies remain cautious, facing practical issues related to establishing the amount of data that need to be collected, the statistical methodology to apply to it and trepidation that an inspector could prevent drugs from being released if a rapid method being evaluated generates higher counts than the current validated method. "The FDA has the 'Research Exemption', an internal memo recognised by the FDA, that allows a drug maker to collect evaluation data on an alternative rapid method while drugs are being made," Meares explains. "The company is expected to continue to rely on the validated method in place and will not suffer any regulatory ramifications. BioVigilant offers its customers the support of our field applications scientists and statisticians to develop sound validation plans and methods that are suitable for their products and manufacturing environments."
Ultimately, time to result is the key factor in microbial detection. "You can't get much faster than instantaneous microbial detection and we invented it," Meares says. "In addition, we are focused on helping our customers realise the benefits that result from instantaneous microbial detection, rather than serving up a method that may fit the current compendial requirements but doesn't move the ball forward on quality assurance. When you consider the future of environmental monitoring, microbial monitoring is one of the last parameters not monitored continuously and in real time in the production environment. Process engineers have ready solutions in place to sense and control temperature, humidity, and pressure, but not bioburden."
In May 2009, Yamatake Corporation of the azbil Group acquired the majority stock of BioVigilant, extending its expertise in auto – mation which includes a growing portfolio of products and solutions organised into Building Automation, Advanced Automation and Life Automation business units. As of this year, all affiliates now include Azbil in their names, and Yamatake itself became known as Azbil Corporation, on the 105th anniversary of the company's founding in April. The core value that BioVigilant is striving to deliver is providing automation that, first and foremost, serves the needs of humanity and the pharmaceutical companies who share in that common goal.