AZP-531 and its potential in Prader-Willi Syndrome
In this exclusive interview, Thierry Abribat, president of Alizé Pharma, discusses AZP-531 and its potential as a treatment for Prader-Willi Syndrome…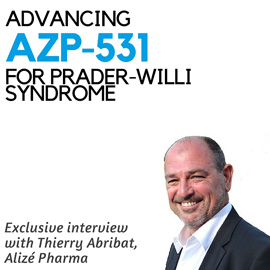 Alizé Pharma recently announced encouraging top line results from a Phase II study of AZP-531 in Prader-Willi Syndrome. European Pharmaceutical Review got in touch with Thierry Abribat, from TAB Consulting, president of Alizé Pharma, to find out about the promising therapy.

Dr Abribat first explained more about the compound: "AZP-531 is a stabilised peptidic analog of unacylated ghrelin, a physiological hormone secreted by the stomach. Ghrelin is secreted by the stomach into 2 forms : acylated ghrelin (AG) and unacylated ghrelin (UAG), and both forms have opposite metabolic effects. AG induces insulin resistance, fat deposition and stimulates appetite. UAG counteracts the effects of AG."
The Phase II trial was aimed at evaluating the safety, tolerability and efficacy of AZP-531 administered daily subcutaneously for 14 days on food-related behaviour, versus placebo. The results showed a significant improvement in food-related behaviour in patients treated with the therapy. Dr Abribat explained more about the trial and AZP-531's mode of action in Prader-Willi Syndrome: "Prader-Willi Syndrome is characterised by hyperphagia, an excessive eating behaviour. Unlike common obesity, Prader-Willi Syndrome is associated with elevated blood levels of acylated ghrelin, a hormone that strongly stimulates appetite. The unacylated ghrelin analog AZP-531 is expected to reduce hyperphagia by counteracting the effects of increased acylated ghrelin blood levels in these patients via a physiological mechanism of action. It is also expected to decrease weight over time and improve glucose control, a key additional benefit as 25% of adult Prader-Willi patients have overt type 2 diabetes."
Improved glucose control with AZP-521 treatment was demonstrated in the Phase II, with a greater effect observed in patients with higher fasting or post-prandial glucose levels at baseline. 
"Highly promising"
When discussing the Phase II trial, Professor Maïthé Tauber, paediatric endocrinologist, Hospital of Toulouse, and coordinator of the Reference Centre for Prader-Willi Syndrome in France, said that the results were "clinically relevant", "highly promising" and call for the implementation of longer-term clinical trials. We asked Dr Abribat about Alizé's plans for AZP-531 in Prader-Willi Syndrome. Dr Abribat explained: "The next step for the development of AZP-531 in Prader-Willi Syndrome will be to prepare and launch longer-term clinical trials with treatment duration of up to 6 months. "
Alizé are also trialling the therapy in Type 2 diabetes. Dr Abribat explained more about the potential of AZP-531 in this treatment area: "As a UAG analog, AZP-531 has been shown to improve glucose control by increasing insulin sensitivity and also to reduce fat deposition in animal models. These metabolic effects were also observed in our Phase I trials in obese subjects and in T2D patients. Therefore it has the potential to be developed in type 2 diabetes."
About Alizé Pharma
Alizé Pharma is a group of companies specialized in the development of innovative biopharmaceutical drugs, proteins and peptides for the treatment of metabolic diseases and rare diseases. The group is managed by a team of drug development experts and by a board of directors with a breadth of international experience.