Driving business value from pharmaceutical serialisation
KMPG's Nicolás Giménez Stamminger explains why serialisation is the solution to counterfeit medicines and how to implement a cost-effective serialisation strategy…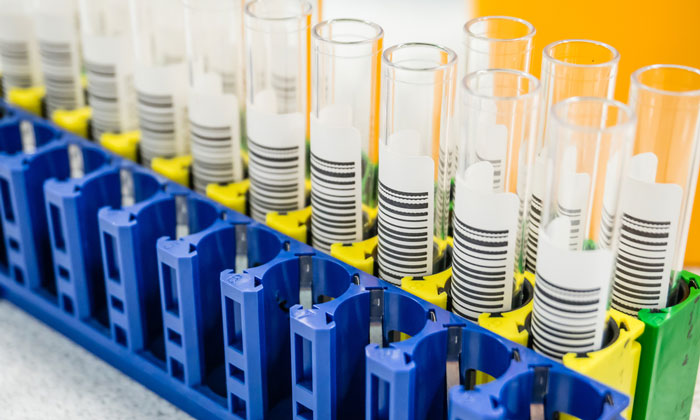 The global pharmaceutical industry is moving towards a serialised world. Increasing threats to patient safety from counterfeited and diverted pharmaceuticals are driving the regulatory activity. In over 40 countries, regulatory mandates to secure the supply chain are already in place or in development.
Regulatory mandates typically require serialisation and verification or product tracking at a saleable unit level. Being non-compliant is not an option as it generally implies a total loss-of-sales. Can serialisation help companies achieve more than just regulatory compliance?
This article provides background on counterfeit medicines and presents serialisation as a key anti-counterfeit measure adopted by different governments, before exploring the key challenges of a serialisation program to become compliant, and how to leverage the necessary investment to achieve additional business goals.
About counterfeit medicines
According to the US Food and Drug Administration (FDA), a counterfeit medicine is fake medicine. It may be contaminated or contain the wrong or no active ingredient. They could have the right active ingredient but at the wrong dose. Counterfeit medicines are illegal and may put people's health and lives at risk being a major obstacle to improving global health.
The production and trade of counterfeit medical products is an illegal global industry operated by multinational crime syndicates. The International Medical Products Anti-Counterfeiting Taskforce (IMPACT) estimates that the incidence of counterfeit drugs is less than 1% in developed countries. However, in regions of Latin America, Africa and Asia more than 30% of the medicines on sale can be counterfeit.
Counterfeit medicines can lead to product recalls and may compromise brand loyalty as consumers associate risks to a brand. Effective anti-counterfeit strategies should avoid these issues and ensure patient safety. The implementation of anti-counterfeit technologies is the most extended preventive measure used by government authorities, as these help ensuring that medicines in the supply chain are legitimate.
SPT as an anti-counterfeit technology for the protection of medicines
The requirements of serialisation and product tracking (SPT) mandates vary by country or legislative region. Institutions like the US FDA and the European Commission are calling for unique identifier (or serial number) on each saleable unit of a product, which is associated with the product ID and the batch or lot number of the product. Serialisation is typically also applied to case and pallet levels, building up serialised hierarchy levels. Serial numbers and – depending on the local legislation – the events associated to a drug (e.g. labelling or transporting), will have to be provided to the compliance reporting systems.
In every SPT mandate, at least two types of requirements need to be specified:
Encoding and printing rules for serial numbers
Involves a two-dimensional code called data matrix and/or the more conventional linear bar code. Most countries are using coding and data standards from international organisations such as ISO (www.iso.org) and GS1 (www.gs1.org).
Verification and compliance reporting system
The verification is the confirmation of a product entity based on the serial number at one or more points in the supply chain.
Every region is implementing compliance reporting systems that will oblige pharmaceutical companies to provide the regulators a mix of master data, packaging and serialisation information or supply chain transaction events, among others. There are three main legislation approaches to fight counterfeit medicines.
Point-of-dispensing: this approach requires medicines' packages to be printed with 2D data matrix codes when they leave manufacturer's plant. At this point, the codes are uploaded to a data repository. The code will be authenticated against the same repository as the labelled medicine arrives at the pharmacy.
E-Pedigree system: a Pedigree is a record, in electronic form, containing information regarding each transaction resulting in change of ownership of a given drug. The pedigree shall be created and maintained in an interoperable electronic system (hence e-Pedigree), ensuring compatibility throughout all stages of distribution
Track and Trace (T&T) system: is similar to the e-Pedigree. However, an e-Pedigree can be forwarded only. In T&T systems, in case of a product ownership change, the new data are sent back to the repository, ensuring the product's lifecycle history.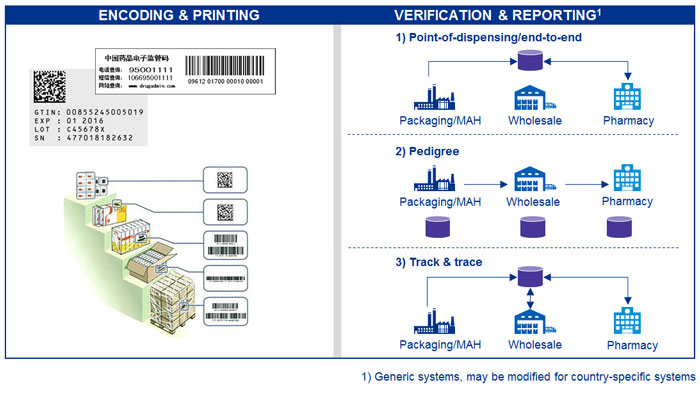 Five core challenges of a cost-effective serialisation program
Based on recent serialisation programs, there are five core challenges that pharmaceutical companies are facing and will need to overcome in order to bridge the serialisation charm.
Understanding the regulatory variety and contingencies Serialisation programs typically start with understanding regulatory requirements, their impacts and goals. Working with an up-to-date regulatory inventory of country-specific SPT requirements, including timelines and scope, will ease the task. Combining the regulatory inventory with client financial data by country and product will demonstrate the serialisation impact on the business model, allowing prioritisation of serialisation initiatives.
Managing a cross-functional program Serialisation impact is not limited to labels, line equipment and line systems. For a holistic serialisation readiness, the current capabilities of people, process, technology and business partners should be evaluated against SPT requirements.
Avoid redundant investments and work A phased implementation roadmap by prioritising sites, contract manufacturing organisations (CMOs), processes and systems according to country due dates avoid redundant investments and implementation effort.
Build a scalable serialisation data platform Optimising investments brings up the next important level of a serialisation program: how to collect and store the packaging line data. The serialisation strategy needs to be translated into a solution architecture to serve as a blueprint for gathering both data (serial numbers) and events about the items coming off the packaging line.
Leverage value-adding business cases While serialisation programs induce mandatory effort and an increase of cost of goods sold (COGS) per unit, required investments create a strategic opportunity to leverage additional value. Companies viewing serialisation as an opportunity may benefit from competitive advantages.
Viewing serialisation as an opportunity
Despite the challenges of running a serialisation program, it should also be apparent that implementing the serialisation requirements also present life sciences organisations with a host of opportunities, including:
Business optimisation
Serialisation allows tracking data on every single unit, resulting in visibility to the most granular level. With serialisation, data is shared throughout the lifecycle of a product and between different departments.
Supply chain optimisation
Today, many companies offer platforms to track serial numbers and events relevant to those objects. By using it to compare expected and actual events, companies can develop T&T applications, identify exceptions, and trigger alerts that can improve the supply chain forecasting, optimise inventory and the supply chain planning. It can also increase supply chain recalls accuracy and help reducing the product recall size.
Returns processing and financial controls
Serialisation can facilitate efficient receiving and disposition of returns as well as precise calculation of precise retuned goods credit.  
Enhanced patient safety and brand protection
Serialisation deters entry of illegitimate products into legitimate channels as it is possibly the most effective tool the pharmaceutical industry has adopted against counterfeiting. The lack of product recalls promotes positive consumer perceptions of a brand.
The aforementioned benefits should help companies considering analysing their serialisation strategy to determine if they get additional benefits than just reaching compliance.
Summary
Some companies will view mandatory efforts as more than compliance and purposefully seek benefits from serialisation data. Pharmaceutical companies should leverage the serialisation investments and should not miss opportunities like the automation agenda (industrial revolution 4.0).
Serialisation benefits must look beyond Supply Chain and into areas the executives care about, such as Commercial and Research & Development. Doing nothing should not be considered as an option.
Related topics
Related organisations