Live stream from Pittcon 2017
We're live at PITTCON 2017! Check this stream for live updates of the event…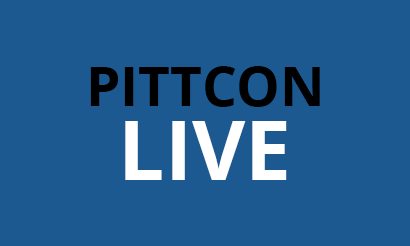 Happy International Women's Day!
DAY THREE: WEDNESDAY 8TH MARCH 2017
---
(1820 – 1) Expanding coverage in 'omics' technology for small samples within vial extraction
Coral Barbas Universidad San Pablo CEU
global profiling of the samples
Metabolites – looking at host metabolome, gut microbiome, nutribiome and xenobiome
LC-MS for lipids
CE-MS for polar and ionic compounds
GC-MS – small molecules that can be made volitile
Want to have several analysis with different techniques and consider time and cost
Goal: obtaining methods with increased metabolite coverage from small samples with minimal treatment and one single instrumental technique
Want to be able to test all compounds in one vial only, small sample of 20 microlitres, HPLC auto sampler injects directly from vial.
to prove the capability of idenitification they used a model of diabetic rat – could identify many more lipids with this method
Currently doing a study of extreme sport – data collection pre and post exposure to exercise – to help compare the metabolites and metabolic features
towards the proteome – ether phase (non-polar molecules) and aqueous phase (polar molecules) are both done in the same vial.
Aim was to investigate the suitability and utility of IVDE for single extraction of HDL and LDL samples, using the sample for lipidomics and proteomics Why? importance of lipids in the biological process, plus it shortens the time for analysis drastically
IVDE can be successfully applied to the analysis of plasma split into two phases with two polarites, paper collected samples, tissue homogenates, HDL and LDL, both lipids and proteins
To hear the Q+A section from Coral Barbas's presentation, click the play button below…
---
(1820-2) Increasing metabolite coverage in untargeted metabolomic profiling of human plasma
Dajana Vuckovic Concordia University 
want to improve untargeted metabolomics approach for plasma – can we improve our standard protocols to enable detections of abundance metabolome?
completed a comparison of plasma protein precipitation methods
used mixed-mode chromatography
methanol based precipitation methods show best recovering in both standard and plasma solutions across wide polarity range
but what about ion suppression or enhancement?
SPE methods outperform methanol-based methods in terms of matrix effects
designed sequential LLE-SPE extraction for non-lipid metabolome – does sequential LLE-SPE improve coverage over methanol precipitation? yes, 50% increased coverage with 7x increase in analysis time. also decreased matrix effects due to descrease in sample composition complexity, improve dynamic range of global metabolomics analysis, may serve as additional tag (chemical class) for metabolite identification
Future steps: assess the analytical parametres: recovery, repeatability, matrix effects and dynamic range and to optimise SPE fraction and LC-MS
Conclusions: to think beyond methanol precipitation to drastically improve metabolite coverage. PF6 class ionic liquids look promising fror lipid removal and sequential extraction format
To hear the Q+A section from Dajana Vuckovic's presentation, click the play button below…
---
(1820 – 3) Metabolomics for early detection of cystic fibrosis in affected infants: population based screening without widespread genetic testing
Philip Britz-McKibbin McMaster University
Metabolomics does not have to just be used for biomarkers – can help with diagnosis
developing protocols to help better understand the disease with diagnosis but also to create personalised medicine
expanding newborn screening programs: confirmatory testing
test 140,000 newborns every year –
universal screening of rare yet treatable genetic diseases
immunoreactive trypsinogen test and CFTR mutational analysis followed by a chloride sweat test
85-90% screen positives have normal sweat chloride
sweat as a biofluid for CF diagnsis: what is in sweat?
CF is a complex disease spectrum with poor genotype-phenotype assocations
hypothesis: secondary testing of other inorganic/organic electrolytes in sweat
wanting to find early diagnosis, before symptoms appear, pre clinical even, with an easy sweat test
---
That's all, folks! Thanks for following our live stream from Pittcon 2017
---
DAY TWO: TUESDAY 7TH MARCH 2017
---
10:25 – 10:45 (1010-6) A membrane –based biosensor platform for measuring ligand-receptor interactions
Marlene Gutierrez University of Tennessee
Looking at the role of biosensors in healthcare
Drug targets and initial research use biosensors – can make use of an optical tranfuser
Lipid as an optical transducer – can make it highly specific with proteins
Diaphragm sensor – can be used to detect biomolecules, and the surface can be easily chemical modified to detect the sample of interest
mass sensitivity depends on the mass to surface area ratio of the sensor.
Confocal microscope – allows researchers to elimate out of plane flurescence,
the technique will only monitor the fluorescence levels
Lipid sensor coupled with confocal fluorescence – a liquid diaphragm will be coupled with a confocal microscope to monitor the fluorescence intensity – it is mechanically oscilliated in and out of the focal plane
To hear the Q+A section from Marlene's presentation, click the play button below…
---
10:45 – 11:45 (1030 – 7) Study of urinary volatile organic compounds for diagnosis of prostate cancer by gas chromatography and mass spectrometry
Qin Gao University of Texas
Want to find a specific prostate cancer biomarker
prostate cancer diagnosis – early screening and actual diagnosis – the screening includes a prostate-specific antigen blood test. They want to pay more attention to the early diagnosis, can prevent the cancer from spreading from the very beginning. 4ng/ml or higher – the patient is likely to have a cancer diagnosis. About 15% of men with a score below this will have cancer diagnosis from a biopsy – so it's not very accurate.
Looking to volatile organic compounds for an early diagnosis. Use urinary VOC samples and combine with the blood test for a more complete diagnosis.
Statistical analysis is key – also use graphical exploration with a heat map combined with a wilcoxon rank-sum test for a comprehensive analysis of prostate cancer vs the control
The heat map identifies VOC domination in prostate cancer patients so it's a very useful tool. They have created a model using VOC and the PSA blood test.
They will continue analysing using both chromatography with mass spectrometry with the hope of identifying all VOC areas.
---
11:45 – 13:30 Bruker Press Conference
---
13:35 – 14:10 (1240 – 1) Single-cell technologies for profiling human disease
J Christopher Love Koch Insititute MIT
---
14:10 – 15:10 (1260-2) Nano-enabled in vitro and in vivo diagnostic tools for tracking and treating disease
Chad Mirkin, Northwestern University
biggest advantage of nanotechnology – get new properties when in miniature – means you can discover different things but you can also exploit these properties within your research
in vivo imaging better contrast – theronostic capabilities
new and better approaches to drug delivery and gene regulation therapy
SNA (spherical nucleic acids)
syntherically programmable recognition
multivalency and multi funtionalty
new properties – co-operative binding, catalysis
– Can tailor and attach to a nanoparticle
SNAs have unique properties distimnct from their linear counterparts – see it as a new form of nucleic acid, can't even compare to linear acids, when compared side to side
can change the properties in terms of plasmonic, catalytic, magnetic, luminscent.
Another advantage is that there is only a minimal immune response and be rapidly internalised – ideal therefore if you want to use it as a probe
mRNA is crucial in cellular function – for diagnosis and treatment of diseases. This is also good as conventional mRNA detection methods are limited eg. reverse transcription PCR (RT-PCR), fluorescence in situ hybridisation (FISH) etc.
SNAs naturally enter over 60 different cell types – they also enter many cell lines, even neurons, which are notoriously difficult to insert in to
nanoflares: spherical nucleic acid for live cell detection of rna
they efficently enter cells and elicit specific fluorescent response to genetic targets
nanoflares exhibit low background fluorscence and a bright response to mRNA targets
nanoflare tech advantages – much faster than RT-PCR, single cell resolution, analysis of living cells,
want to find multiple genetic targets
What can't we do? determine the loacation of mRNAs – currently you can only get the amount. so they worked on this using sticky-flares to identify RNA intracelluar localisation. were able to see sticky flare activity within the nucleus
sticky flares are sna-based manoconjugates capable of detecting and tracking the intracelluar localisation of RNA in living cells
---
15:25 – 16:25 (1330-6) High-throughput screening and quantitation of prohibited substances in plasma and urine samples by coated blade spray-mass spectrometry
Marcos Tascon University of Waterloo
How can you be efficient? Quantitation, screening, speed of the process ie. sample preparation, seperation/detection – all creates a more selective and sensitive mass spectrometry
He recommends removing the separation section
MS/MS is iseal for target analysis, high selectivity, great sensitivity
SPME non exhaustative extraction, easy to automate etc.
SPME-MS is their solution, combining the technologies, especially if you need to monitor a large amount of components
matrixes that they test – urine and plasma – do not require an previous sample treatment, it can be immediately tested
Experimental workflow – collect at least 300ml of urine or plasma dip with the coated blade for 1 min to release the macromolecules and then to be placed in high voltage and screening takes place – overall method time of their high-throughput system is about 2 minutes, extremely fast – can also do 96 extraction at the same time as inital steps are fully automated leaving more time for detection plus they found their accuracy to be 95% and above
Future works directed towards full automation of the entire analytical process
---
DAY ONE: MONDAY 6TH MARCH 2017
---
8:00 – 9:30 Waters Press conference and Discussion
To hear Chris O'Connell President and Chief Executive Officer at Waters speak live at Pittcon, click the play button below
Waters mission statement 'world's leading speciality measurement company, delivering benefit through innovations and people that enable customer success in the life, materials, and food sciences'
---
9:30 – 9:55 (380-4) Current trends in cancer biomarker discovery using urinary metabolomics achievements and new challenges
Casey Burton, Missouri University of Science and Technology
Discussed the differences between pterdines ( do not vary with age and gender) and modified nucleosides
Major challenge 1 for urinary biomarker – how to normalise urinary metabolites
Major challenge 2 – better understanding biological variation – most cancer biomarker applications utilise spot urine specimens
Precise study completed – Tracked daily urine samples without supplements then added folic acid, they saw that pterdine levels are dramatically affected by folate supplementation
Future of cancer biomarkers – new biomarkers being published everyday. 400 metabolites known, with the potential for 7000 to be found, especially now with enhanced capability to monitor more biomarkers.
To hear the Q+A section of Casey Burton's presentation, click the play button below.
---
10:05 – 10:25 (420-5) Planning for laboratory software implementations – often-overlooked considerations
Katherine Temple CSols Inc
A succesful software implrementation: on schedule, to budget, legacy systems are retired, end-user adoption
but how to plan for this success?
project management AND change management AND resource management as well as user training and cut-over planning
LIMS implementation – are you ready?
You need to come to consensus on the priority for implemetnign functionslity, based on both your business needs and your project
Terminology standardisation – everyone needs to speak the same language, use the same lexis across labs specific, across labs, locations and company wide
Static data organisation – 'clean date' in interfaced systems, make sure all data is recorded in the same format across all. Also the data ownership – who owns it? If multiple people own it, who is responsible for updating and maintaining this data?
Pilot testing – vital for your end users. If you're upgrading, or changing, there can be a big gap in the data. Training all involved is essential. Controlling the data in you test environment is so important as it can influence the outcome of your test. Budgeting time for pilot testing is useful, too.
Be sure to discuss testing implementations with stakeholders outside the lab – otherwsie it can cost you. QA and document control should also be discussed with the stakeholders.
---
MilliporeSigma to Announce Major New Product Launch W193
Launched of the Milli-Q IQ 7000 system, the seventh-generation Milli-Q water purification innovation.
More energy efficient, more eco-friendly with new hibernation mode. Wider range of dispensing options. 
Improved data management – system archives 100% of system events for better traceability
Easily connects to lab networks for data integration
---
13:30 – 14:10 (610-10) The Rocky Mountain High Experience
Heather Krug, Colorado Department of Public Health and Environment
Government has authorised a Marijuana Refernce Lab – testing, how to, setting standards,
The testing goal is protection of pulic health and safety, but it's difficult to know without standards.
They are testing for:
microbials (bacteria, fungus)- edible products tested for salmonella e coli
residual solvents
metals testing – not yet mandated eg lead & arsenic
potency must test for 5 different cannabinoids, as well as additional
edibles can not exceec 100mg of thc, not required for phamaceuticals
pesticides testing – pesticides – no pesticides allowed on marijuana crops. official statement – threat to pubic safety having pesticides on marijuana. narrowed the list for 13 pesticides to test for – data so new it's not ready to present or to use to help decision making. we will get there and have defensible data
There are no standars test methods for marijuana, nothing to go off but looked at food industry tests as a starting point and have created a living document, updated with new methods as they become available
Validation of methods is necessary – lab auditors checking scientific metjod at labs. variety of cannabis products mean testing wont work for all. Marijuana can be put into anything – cookies, pizza etc. edibles have too many variables
48 hr incubation time – is it enough? too much variety not enough time to test
Profieciency testing – labs ability to test. Worked out the process by buying and then testing in private labs, analysed the results. first with flower based products then with edibles
---
14:10 – 14:45 (580-2) New technologies in Infection Diagnostics: Linking the volatile cell metabolome to breath-based diagnostics using innovative analytical tools
Jane Hill Dartmouth University
Explained why human primates are a good model for studying TB.
12 animals, before and up to six months post infection
Does not advocate animal testing Each chimp is about $30,000, so you have cost as well as ethical issues. Of course, human trials do not cost anywhere near as much but you can't infect a person with TB!
How do we do experiements on animals without killing them?
Klebsiella pneumoniae – currently outcome for this is not good as it's multi-drug resistant
Goal 1: to get a sense of the core and pan/rare volatilome
Result 1: 38 molecules prodcued by all strains in all media
To hear the Q+A section of Jane Hill's presentation, click the play button below…
---
14:45 – 15:20 (610-3) State Regulatory Laboratory perspective
 Keith Wegner Colorado Department of Agriculture
Pesticide testing
3 types of legalised cannabia in Colarado
industrial hemp – regulated by dep of agriculture
medical marijuana – department of public health and environment
recreational marijuana – department of revenue
With all these different agencies working on essentially the same product – what could go wrong?! Actually working very well together and communicating for standards and regulations of this newly legal product.
Cannabis in Colorado is a $1.5 billion industry. Sales, retail and other taxes – well worth the legalisation. Many differing uses in the marketplace, including personal lubricants as well as baked goods, lotions, patches, shampoo, lip balm, toothpaste, chocolate. It's not just found in it's flower form.
Methods for testing for pesticides outlined for clarity – Q-TOF, LC/MC/MS HPLC etc. Found about half contained pesticides, which is technically still against the law. One prominent case involved myclobutanil. Using a butane lighter with a joint containing myclobutanil can create hydrogen peroxide.
Once published, the levels of use of this pesticde has decreased massively, as well as pesticides in general, growers are decreasing
The landscape is a still unfolding saga of the social legal regulatory economic medical and ethical effects of state legalisation of cannabis Colorado has made significant progress in regulating the indutry. There is a lot of work left to do.
---
15:35 – 16:10 (610-4) Operating a commercial cannabis laboratory: Fact vs. Fiction
Robert Martin Association of Commercial cannabis laboratories
Robert Martin is a microbiologist by training, partnered with UCLA trained chemist. In about 2007, many of his friends started coming to him asking advice on cannabis with regards to chemotherapy, alcoholism etc. He decided he wanted to start a medical cannabis lab. Already had QA/QC experience and set it up. Of course, it is expensive – they've been profitable 2 years out of 7.
"Cannabis is and should be regarded as safe"
The complication of sample diversity, raw flowers reresent only a small portion of the sample intake.
The diversity of tests
Microbiological: Plating, PCR, MALDI – It's all about collaboration. Too many corporate secrets on how they test different things
Potency: LC, GC, TLC
Pesticide residue:
NPDD, ECD< ELISA, LC-GC
Residual solvents:
Headspace analysis
It's going to be science. Science will prove the data. Currently working on a paper on the microbiology of cannabis. QA is a probability game.
Other proposed testing:
Heavy metals – ICP
Radiation – Giegar
Afla Toxins
The profit paradox: There is a great misconception that cannabis-testing labs are highly profitable. In reality, most labs work within a 4 – 6% profit margin.
You need: experienced scientists/ chemists, analytical equipment, SOP selection, Rent/Utilities – maybe because of the stigma attached to a cannabis lab, Security – his lab need an armed guard and of course, taxes. 
Business planning is critical – it's impossible to forecast the proper business plan in this emerging industry. It is so fragile that bad press, not even the science, but a headline, could change it.
You need to consider: Local legislation/ regulations, co-ordinating staffing needs with growth 'If you fire someone, you fire a part of yourself', determining the best customer plan, landscape assessment, pricing strategies – illegal to discuss pricing with competitors so what can you do?
"I've had 6 banks in 7 years"
All banks and credit unions are currently forced to ban Cannabis related accounts – therefore many labs are forced into cash only business which is very dangerous for the safety and security of the labs themselves.
The cannabis industry existed for many years with little to no analytical support. This absence of the scientific mathod – anecdotal experiences were taken as valid, efficacy and success was based upon trial and error of individual producers and cash, bad habits become ingrained and difficult to change. 
Most producers have little or no experience in legal business matters.
Also, principles of variation are poorly understood. He considers there are 4 variations.
Natural variation in plant
Sampling variation – we don't know where the samples come from before the ab
Process variation – edibles or concentrate etc
Analytical variation
50 Cannabis labs in North America. As it is in every industry, there are good players and bad. "Good labs based on integrity. Bad are focused on taking your money."
ACCL – promotes good practice, strives for proper standards and practices for our industry. They collaborate with competitors to help them out etc, "You don't need to hate your competitors, you are the same."
Academia is beginning to submit research proposals regarding cannabis, mentioned research with Alzheimer's disease as well as the multitude of other indications. 
16:10 – 16:45 (610-5) Advanced Techniques for unknown screening of cannabis samples
Paul Winkler
To hear Paul Winkler's presentation click the play button below…