Innovation and leadership drive success
As part of EPR's Women inspiring Pharma series, Gowri Sukumar, Associate Director, CMC and Regulatory Affairs at ESSA Pharmaceuticals, talks to Science Editor Dr Zara Kassam about having a positive mindset, diversity and the key to success…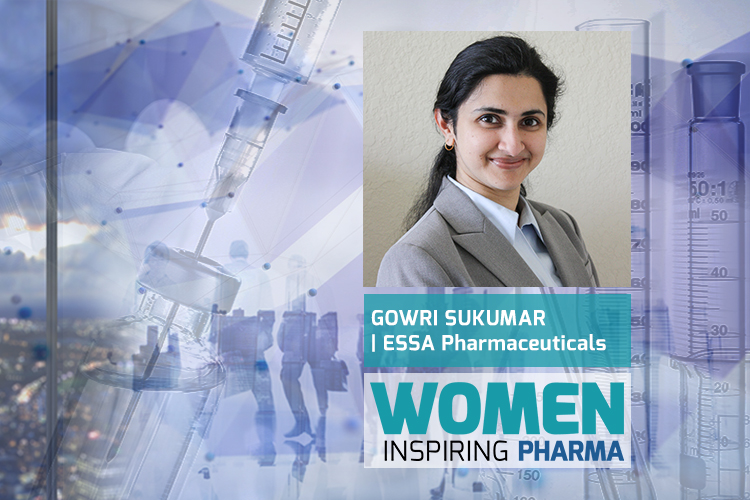 Tell me about your career? 
My interest in science began ever since I worked on a science project in 5th grade. I pursued the science field through school and completed my graduate program (masters) in biosciences.
After school, I began my journey in the industry as a scientist at Biocon India within the microbial upstream process development group. Though process development has often been considered as a challenging field for women, however, I decided to 'take the road less travelled'. I was one of the key contributors towards the process optimisation of two recombinant proteins with several folds increase in yields. During this time, I also had the opportunity to mentor junior employees and graduate students, which helped me hone my leadership skills.
I feel privileged that my mother told me early not to compromise on my career and continue to follow my passion for science
I then moved into regulatory affairs wherein I helped accelerate approvals for Biosimilar and Biologics. I subsequently moved to the United States, where I earned the Regulatory Affairs Certification (RAC) credential from Regulatory Affairs Professional Society (RAPS, Maryland, USA) which supported my professional growth further. Over the course of time, I have been contributing to the scientific knowledge via several research publications, book chapters and serve as a Reviewer for Bioscience journals.
I currently hold a leadership role as an Associate Director, CMC & Regulatory Affairs for ESSA Pharmaceuticals.
What does your current role entail?
As an Associate Director of CMC & Regulatory Affairs at ESSA Pharmaceuticals, have a dual role where I oversee and lead the CMC as well as the Regulatory activities to move an oral dose small molecule into clinical development and ultimate commercial manufacturing.
From the CMC perspective, I manage both the Drug Substance as well as the Drug Product, right from process development all the way to scale up, GMP manufacture and packaging. Being an early stage oncology company, virtual manufacturing support is one of the crucial aspects of CMC. Virtual manufacturing support often requires an extensive relationship, management with multiple global contract manufacturing organisations that are utilised to make the product for the clinical studies. One of my key areas involves strategic, tactical decision making as well as the resolution of scientific and technical issues to ensure seamless process development and/ or manufacture.
The challenge is to excel in science, entrepreneurialism, communication and courageous leadership – all at the same time!
On the Regulatory side, provide regulatory leadership and expertise within a cross-functional and team-based environment. Also, responsible for building relationships, act as a liaison with regulatory agencies including FDA, EMA and other health authorities worldwide and partner on drug development matters. I also serve as a lead to develop regulatory and quality strategy, development and implementation of all regulatory policies, quality and auditing programs. I enjoy both the aspects of my role immensely.
Do you think being a woman in the pharma industry is a challenge?
I think I have been lucky that I have always been offered the same chances as my male colleagues. A positive mindset and the determination (never to take 'no' for an answer) are the key to success. Studies show female brains to be better wired for leadership, less impulsive behaviour, better judgement and more empathy. Women can be strong leaders by displaying these qualities and thus become huge assets for the company.
Are there examples within your company where women have been successful?
Women are continuing to make important strides as leaders, taking influential roles and actively working to facilitate change throughout the life sciences industry. Positive role models allow women to not only dream of being successful in the industry but seeing that these achievements are possible. I am incredibly proud to work with a talented and diverse group of women who bring unique personal and professional experiences to the company each day
What have you experienced as barriers to success on your career path, and what advice would you give to women who come up against these same barriers?
I have been fortunate not to have experienced any specific barriers to my career advancement. I was given opportunities in several ways and this indeed gave me a great platform to learn.  Early in my career, had the opportunity to work internationally and that gave me incredible industry and personal learning experience that transformed me and demonstrated the ability to be successful under very different conditions.  In my mind, having a strong scientific background along with the flexibility, commitment, the ability to continue to learn and handle change are the key to opening doors to opportunity.
What can women do to prepare themselves to reach the C-suite in the pharmaceutical and healthcare industries?
The challenge is to excel in science, entrepreneurialism, communication and courageous leadership – all at the same time! The best way to accomplish the same would to be find ways to fill in any experience gaps. And of course, the element of luck, where preparedness meets opportunities also come into play.
I believe women need to endorse each other more. This can in turn help to open doors to more women to the c-suite in addition to strengthening the culture of inclusiveness and meritocracy.
Looking more broadly in the industry do you think there is a glass ceiling for women in pharma and is it any worse than in other industries?
From my perspective, the picture is slightly better in the pharma industry when it comes to female representation at board level, but it remains critical to improving female representation at an executive level. As we look at the near future, we should remain focused on creating opportunities for women in our industry.  At the micro level, we can make a difference in our own communities by mentoring and developing existing talent.  More progress in this area would greatly benefit any industry.
Currently, men outnumber women in science graduate degrees in the UK – how can we better address this imbalance to encourage more women into biology, chemistry, mathematics, and so on?
My mother went to university and that was not common for someone from her generation.  So, when I was brought up in that environment, it was natural for me to know that women can be good in their career as men.  I feel privileged that my mother told me early not to compromise on my career and continue to follow my passion for science.  This shows how much influence one can have as a parent on one's children. It is also equally important, to take the opportunity to drive interest in our industry for young women through STEM education programs and by partnering with academic institutions with established internship programs. Through these channels, I believe we can take meaningful steps towards supporting one another's growth by sharing experiences, learning from others'.  I hope to be a catalyst for that change.
How could the Pharma industry benefit if more women were in higher roles?
Diverse voices equal new ideas. Diversity is not just about numbers. Bringing in a variety of perspectives, backgrounds and experiences is key to an organisation's success. One way to bring in these diverse perspectives to an organisation is through gender diversity in higher roles. This is particularly true with Pharma and health care, which is a complex space with a very diverse customer base. Women bring a different voice and a different perspective that can help solve many problems facing the pharma industry today.
Related topics
Related organisations