New Syrris Asia catalogue highlights the benefits of flow chemistry
Syrris is pleased to announce the release of its new Asia flow chemistry reactors catalogue…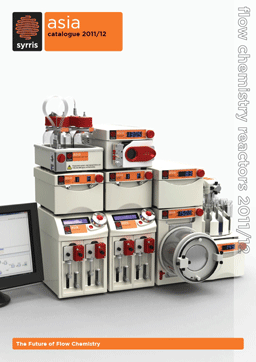 The new Asia catalogue
Syrris is pleased to announce the release of its new Asia flow chemistry reactors catalogue.
The revolutionary Asia range of advanced flow chemistry products has been designed by chemists, for chemists, providing ultimate ease of use and enabling the widest variety of chemical reactions to be performed. Asia's proprietary technology allows automated experiments with or without a PC, and its modular design makes it suitable for both laboratories on a modest budget – allowing addition of further modules at a later date – and users requiring maximum functionality.
In addition to providing more detailed and updated product information, the new Asia catalogue now incorporates a helpful guide to flow chemistry, which includes basic theory, practical considerations and the benefits of the technique. This guide will serve as a useful training aid in the laboratory, and as a valuable source of information for laboratory staff new to flow chemistry synthesis, helping to ensure successful flow reactions.