Teva announces management succession
Dr. Jeremy Levin, a former Senior Executive at Bristol-Myers Squibb, to succeed Shlomo Yanai as President and CEO…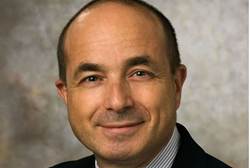 Dr. Jeremy Levin
Phillip Frost, MD, Chairman of the Board of Directors of Teva Pharmaceutical Industries Ltd. (Nasdaq:TEVA), announced today that Shlomo Yanai, President and CEO of Teva, plans to retire from the company effective May 2012, and that as part of a succession plan, the Board of Directors has named Dr. Jeremy Levin, a former senior executive at Bristol-Myers Squibb (NYSE:BMY), to succeed him at that time.
The plan is the result of a decision by Mr. Yanai to move on to a new phase in his career after five years as President and CEO of Teva, during which he led a growth strategy that has taken the company from an $8.4 billion mainly generics business in 2006 to a more diversified pharmaceutical company with expected 2012 revenue of approximately $22 billion, and an expanded footprint in the European, Asian and Latin America markets.
The Board conducted an extensive search process and concluded that Dr. Levin, with his recognized strategic vision and deep knowledge of the pharmaceutical industry is the right person to lead Teva going forward. He has the demonstrated track record, broad global experience, and impressive leadership skills to continue to grow Teva.
Dr. Levin has more than 25 years of experience in the global pharmaceuticals industry, leading companies and people in the creation, development and delivery of medicines. He is recognized as a leader in creating commercial and R&D alliances. He joined Bristol-Myers Squibb in 2007. He has had direct responsibility for strategy, alliances and transactions, and managed its portfolio of alliances.
Before joining Bristol-Myers Squibb, Dr. Levin served from 2003 to 2007 as Global Head of Business Development and Strategic Alliances at Novartis. Earlier, he was CEO of Cadus Pharmaceuticals, a company he took public.
"Dr. Levin is an exceptionally talented business leader with a deep understanding of the opportunities and challenges of the pharmaceutical industry," said Dr. Frost. "He brings to Teva a wealth of experience and the hands-on skills required to foster the growth of a global pharmaceutical business. As a business leader and as a physician, he is passionately committed to bringing effective treatments to patients, worldwide. His combination of vision, creative energy and an effective team-building management style make him an ideal choice to lead Teva into its next growth phase."
Dr. Frost continued, "During his tenure, Shlomo Yanai designed and successfully implemented a strategic plan that produced double-digit growth for 18 consecutive quarters, as revenues expanded at a compound annual growth rate of 17 percent, and earnings per share more than doubled. He led the company to significant expansion in Europe and Asia, and formed new collaborations in biosimilars and in the OTC pharmaceuticals markets, including the recently announced joint venture with Proctor & Gamble. He has built a strong foundation for the company's future. We wish him the best in his new endeavors and are appreciative that he will continue to be a valued advisor to the company following the leadership change. We have become personal friends and I hope we will have the opportunity to work together again."
Dr. Levin commented, "I have known and admired Teva for many years, not just as a global leader in generic drugs, but as an outstanding innovator in pharmaceutical development and new strategic approaches to serve patients worldwide. Demographic trends and economic pressures in developed and emerging markets are intensifying the challenge to provide good medicines at affordable prices. Teva, with its multiple platforms in generics, branded, and OTC drugs, is in an especially good position to meet this challenge. It will be a privilege to work with the talented and dedicated people of Teva to fulfill this mission.
"I have had a marvelous experience at Bristol-Myers Squibb and am proud to have participated in the transformation of that company as a member of the senior management team. I have worked there with intelligent, hard-working, and committed colleagues, and I will treasure that experience. However, the opportunity to live and work in Israel and to contribute to and grow one of the country's great institutions is compelling. I look forward to working with Shlomo Yanai, the management team, and the Board in the coming months to achieve a seamless transition and to build a platform for long-term growth."
"Over the past five years, Teva has been transformed from a successful generics business into a major global pharmaceutical company," said Shlomo Yanai. "We have achieved double-digit increases in sales and earnings, and have built, acquired or partnered to create new opportunities to support future sustainable growth. I believe 2012 will be yet another year of profitable growth. I look forward to completing my tenure at Teva and moving on to my next challenging venture. I am confident that Jeremy Levin will lead Teva to its next stage of success."
Dr. Jeremy Levin, 58, was born in South Africa and has lived in the United States since 1986. In addition, he has lived in Zimbabwe, Great Britain, Switzerland and Israel. He received an undergraduate degree from Oxford University in Zoology, masters and doctoral degrees from Oxford University in Molecular Biology, and a medical degree from Cambridge University. Among numerous honors, he was the 2005 recipient of the Albert Einstein Award for Leadership in Life Sciences, awarded by Shimon Peres. Dr. Levin has served as a practicing physician at University hospitals in South Africa, the United Kingdom and Continental Europe. He and his wife, Margery Feldberg, have been married for 25 years and have two college-age daughters.
Shlomo Yanai, 59, has been President and Chief Executive Officer of Teva since March 1, 2007. Prior to joining Teva, he was the President and CEO of Makhteshim Agan Industries from 2003 through 2006. Until his retirement from the Israel Defense Forces as a Major General, he held positions as head of the Planning Branch of the Israel Defense Forces (1998-2001), Commanding Officer of the Southern Command (1996-1998), and Head of the army R&D division (1994-1996). In 1973 he received the Distinguished Service Medal from the Israeli Defense Forces. He is a graduate of the Harvard Business School's AMP program, and also holds an M.A. from George Washington University in National Resource Administration. He received a B.A. cum laude in Political Science and Economics from Tel Aviv University, and he is also a graduate of the U.S. National War College (NDU). He and his wife Ahuva have three children and three granddaughters.
Related organisations
Related people