Tecan triumphs at SLAS2012 with Direct Digital Titration
The First Annual SLAS Conference and Exhibition held in San Diego, California, in February heralded success for Tecan…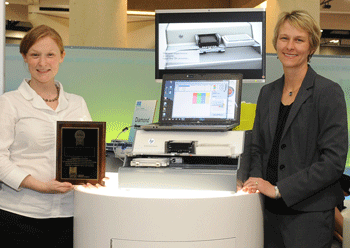 Jessica Merlino, Tecan Product Manager, and Christie Dudenhoefer, HP Instrument Design Lead, accept the award
The First Annual SLAS Conference and Exhibition held in San Diego, California, in February heralded success for Tecan, with the new HP D300 Digital Dispenser receiving the SLAS2012 New Product Award Designation.
An intensive selection process involved an initial assessment phase, where individual judges visited their allocated booths to evaluate and rank each entry before coming together to establish a short list of candidates for the award. Phase two saw the team of judges rating the top nine entries against specific, detailed criteria and, of more than 60 new products launched at SLAS2012, the innovative HP D300 was one of just four chosen to receive this prestigious award.
The new HP D300 Digital Dispenser is a simple, standalone instrument for the pharmaceutical sector, which uses HP Direct Digital Dispensing technology to rapidly deliver picoliter to microliter volumes of drug compounds. Available exclusively through Tecan, this innovative device can cut titration times from hours or days to just minutes.
Jessica Merlino, Product Manager Special Products at Tecan, commented: "The HP D300 is the result of an agreement between Tecan and HP to commercialize this new technology for use in drug discovery research, helping to improve productivity and accelerate the discovery of better drugs. We are delighted to be one of such a small number of recipients of the SLAS2012 New Product Award Designation."
Dr Kevin F. Peters, Hewlett Packard's BioPharma Industry Champion, added: "HP is proud that the HP D300 Digital Dispenser for drug titration is being recognized by the industry and customers as a breakthrough solution for dose-response experiments. We are excited to collaborate with Tecan to bring this innovative product to researchers involved in such important work."
To find out more about Direct Digital Titration, go to www.tecan.com/digitaltitration