Switching to "simply paperless" particle counting from MET ONE saves you time immediately
Modern pharmaceutical injectable drug production is heavily regulated…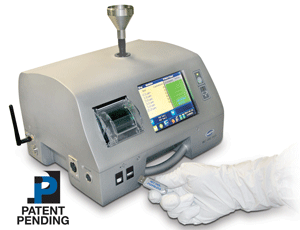 HACH LANGE's MET ONE 3400 simply paperless
Modern pharmaceutical injectable drug production is heavily regulated in the global pharmacopeia markets, with very strict change control in place within clean room environments. Particle counting in these clean rooms has essentially remained unchanged for many years. The standard SOP's in place require the printed records from each monitoring run to be cut up, scanned in and archived. Often data has to be separately transferred by hand into other databases or excel. This process is time consuming, frustrating and can lead to data transcription errors. In addition, the paper printouts can themselves be a source of particle contamination in the clean room. To address this critical issue HACH LANGE is pleased to announce the release of the MET ONE 3400 simply paperless particle counter. This new concept in particle counting technology now features paperless and 21 CFR part 11 secure technologies to assure regulatory compliance in the pharmaceutical production of human injectable drugs.
The MET ONE 3400 simply paperless particle counter automatically exports PDF data direct to a USB memory stick with no additional software required. This unique and patent-pending technology allows users to stop manually tearing, taping, scanning and copying particle counting print-outs and so saves at least 2 hours per day. The users of the MET ONE simply paperless technology can stop printing and generating particles in their clean rooms and generating printed reports that fade over time. The MET ONE simply paperless technology streamlines data transfer with direct export to an Excel compatible file, so eliminating the manual data entry requirements which burden pharmaceutical injectable drug production today.
With MET ONE simply paperless patent-pending technology there is normally very limited or no impact on internal standard operating procedures (SOP's) and quality control procedures. Regulatory compliance is assured with simply paperless as the data is exported directly to PDF 21 CFR part 11 and secure format. Implementation of MET ONE 3400 simply paperless is as easy as 1-2-3. Simply check a box, start particle count sampling, and automatically receive PDF reports on a USB memory stick. There is no additional software or complex validation steps required, as the MET ONE 3400 simply paperless can be upgraded in instruments already in use in your clean room today.
MET ONE sales and service teams around the world in the US, EU, and Asia pharmacopeia markets are readily available to provide information and upgrades for the MET ONE 3400 simply paperless technology. HACH LANGE Life Science teams offer on-site calibration services for pharmaceutical injectable drug manufacturers to ensure equipment remains in compliance and never has to leave site.
With the patent-pending MET ONE 3400 simply paperless particle counter pharmaceutical manufacturers around the world can immediately save time, money, and eliminate data errors in their clean room operations.
For more information please visit our global website at: www.particle.com