FDA approves CYRAMZA® (ramucirumab) for EGFR-mutated non-small cell lung cancer
CYRAMZA in combination with erlotinib was approved as a first-line treatment for metastatic EGFR-mutated non-small cell lung cancer.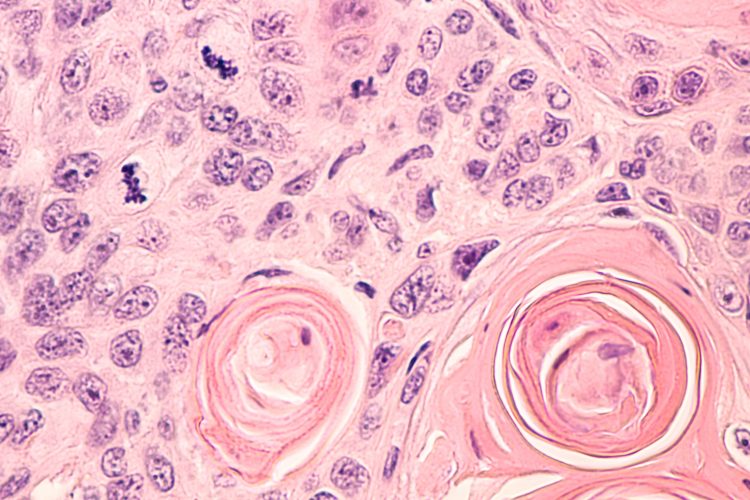 Photomicrograph of a CT (CAT) scan-guided needle core biopsy showing pulmonary squamous cell carcinoma, a type of non-small cell carcinoma usually associated with smoking.
The US Food and Drug Administration (FDA) has approved CYRAMZA® (ramucirumab injection, 10 mg/mL solution) in combination with erlotinib, for the first-line treatment of people with metastatic non-small cell lung cancer (NSCLC) with epidermal growth factor receptor (EGFR) exon 19 deletions or exon 21 (L858R) mutations.
The approval was based on results from the Phase III global, randomised, placebo-controlled RELAY trial, in which the ramucirumab and erlotinib combination demonstrated a statistically significant and clinically meaningful improvement in progression-free survival (PFS): 19.4 months for those treated with the combination, versus 12.4 months when treated with a placebo.
According to Eli Lilly and Company, the developer of CYRAMZA, PFS was consistent across exon 19 and exon 21 subgroups and the safety profile was consistent with what had gone before.
CYRAMZA is a vascular endothelial growth factor (VEGF) receptor 2 antagonist, which prevents angiogenesis (blood vessel growth), starving tumours of nutrients and oxygen to slow their growth. Erlotinib targets EGFR, a tyrosine kinase (TKI) which is mutated in a variety of cancers, in order to slow tumour growth. CYRAMZA plus erlotinib is the first FDA-approved anti-VEGFR/EGFR TKI combination therapy for metastatic EGFR-mutated NSCLC.
"The approval of this new first-line metastatic EGFR-mutated non-small cell lung cancer regimen, which inhibits the VEGFR and EGFR pathways together, is an important milestone in the treatment of this disease. It is wonderful that patients now have multiple options for initial therapy capable of delaying disease progression for considerably longer than erlotinib, which has been our traditional standard approach," said Dr Edward Garon, the North American lead investigator on the RELAY trial, from the David Geffen School of Medicine, University of California, US. "Ramucirumab, in combination with erlotinib, is a welcomed first-line option to offer our patients with metastatic EGFR-mutated non-small cell lung cancer."
Recent statistics suggest the five-year survival rate for metastatic NSCLC patients is six percent, with an estimated 15 percent of NSCLC diagnoses in the US harbouring an EGFR mutation. Ivy Elkins, cofounder of EGFR Resisters, commented: "We're encouraged by CYRAMZA's latest approval, which represents one step towards our goal of making EGFR-mutated non-small cell lung cancer into a manageable chronic disease."
Possible adverse events associated with CYRAMZA include: haemorrhage; gastrointestinal (GI) perforations; impaired wound healing; arterial thromboembolic events (ATEs); and hypertension, among others. The labelling states use of CYRAMZA should be permanently discontinued in patients who experience any of these symptoms.
The most common adverse reactions observed in CYRAMZA with erlotinib-treated patients in the RELAY trial infections, hypertension, stomatitis, proteinuria, alopecia and epistaxis, all at a rate of ≥30 percent.
CYRAMZA has already been approved in the European Union based on the RELAY results.