New pharmaceutical filling area for the facility in Pfreimd
Gerresheimer Medical Plastic Systems continues to expand its range of services in order to meet customer demand…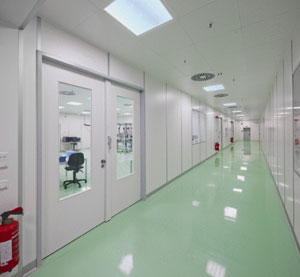 New Pharmaceutical Filling Area for the Facility in Pfreimd
Gerresheimer Medical Plastic Systems continues to expand its range of services in order to meet customer demand for complete solutions. In addition to injection molding, assembly, packaging and finishing, the service portfolio now increasingly includes pharmaceutical product assembly and packaging. In fact, the Gerresheimer Regensburg GmbH facility in Pfreimd (Germany) now also has a pharmaceutical packaging and assembly area.
The area was designed in accordance with the modern, flexible zone concept. It is comprised of three clean rooms classified and validated in accordance with GMP Class D (ISO 8), ranging in size between 70 and 90 sqm. "When producing different products, the production areas must be physically separate," Armin Henning, Director of Production Sites in Europe explained about the concept. The packaging and assembly area therefore consists of modular production cells, which are separated from each other through pressure cascades. The rooms are equipped with assembly, filling, and test equipment that complies with the guidelines of the German Pharmaceuticals Act. Compliance with the quality standards is guaranteed through regular audits by the government of Upper Bavaria. The pharmaceutical filling process is supervised by a "qualified person", a pharmacist with 25 years of experience in the area of the production of pharmaceutical products.
Gerresheimer Medical Plastic Systems has 10 years of experience in the filling and packaging of active ingredients in various application systems. During 2001, clinical test samples and stability batches of a dry powder inhaler were being filled. This filling permit was limited to the handling of clinical test samples. It included the production of powder mixtures as well as the assembling, packaging, and labeling of dosing devices that came with the powder mixtures. In 2007, this filling permit was expanded to also include the loading and packaging of applicators with implants. This was the requirements to load first clinical samples of an applicator required for studies and clinical permits with a long-term implant. In 2011, Gerresheimer Medical Plastic Systems obtained a manufacturing permit as required by the German Pharmaceuticals Act, which entitles the company to package and assemble in accordance to that act.
The facility of Gerresheimer Regensburg GmbH in Pfreimd now features a new pharmaceutical packaging and filling area.